***THIS WEBSITE IS NOT THE OFFICIAL LIVINGSTON PARISH COUNCIL WEBSITE***
THIS SITE IS OPERATED BY CONCERNED CITIZENS THAT WANT TO BRING AWARENESS TO THE COUNCILS ACTIONS.


My Opinion Of Why I Wouldn't Want to be a Councilman in Livingston Parish
Why would anyone want to be a councilman in Livingston Parish? If you try to do what's best for the parish, you will quickly find out that's not allowed. You will not get fair coverage in any of the newspapers. The TV news stations will only cover the meetings when there is a controversial topic with a lot of drama and they will put their own spin on it. You are subject to being sued by anyone who may disagree with you and District Attorney Scott Perrilloux will leave you without any support. He will convict you on YouTube video interviews and accuse you of being a mini parish president. Again I ask, why would anyone want to be a councilman? The pay that you receive isn't enough for what you have to go through. You can't change the way the parish government has operated for years and if you try you will lose. It shouldn't be this way. You should be allowed to be a voice that is heard without any repercussions for doing so. You should be allowed to not agree with something and have your say as to why.
Most councilmen will go into office with high hopes of making changes for the better, but soon find out that there is more to it. You may find that people wanting to do business with the parish soon start asking you to lunch and throwing big parties for you at conventions or maybe a big crawfish boil at one of the local golf courses. Next thing you know you will be looking at them at a council meeting voting on something for them. You may feel forced to take donations from many people who either want to do business with the parish or who will be calling you in the future wanting something. Even if what that donor wants is perfectly fine and legal you will feel like you compromised your own morals and if you don't, then you have become what you went into office to fight against.
You have to learn to be a silent voice and leave certain issues alone. Leave the budget alone, you don't have a right to make sure our tax dollars are being properly spent… Don't question why money was spent or if it was properly spent... Don't let small business have a chance to compete against large corporations… Don't dare look over the Parish President's shoulder and review the billing and checks that he has paid...Keep the current ordinances the same so that small businesses can't compete... If a small business tries to compete with a large corporation, you may feel the need to attend homeowner meetings and speak against that small business. You will be asked to give our tax dollars away to large developers just so you can feel like you're a part of bringing that project to the parish. Put tax after tax on the ballot because such a small majority votes for them and they will probably pass.
As a councilman, you don't have any legal support and you are subject to being sued for any reason or simply for harassment. Depending on who you are, you most likely will not get any help from our district attorney. You will never be able to change this. Scott Perrilloux will always appoint the attorney for the council and he will select an attorney of his choice. He will never allow the council to select an attorney of their choice unless it's for a special case. It gets even better. You will have to pay for the attorney that he chooses for the council. He currently appoints the attorney for Livingston, Tangipahoa, and St Helena Parishes. Livingston is the only one of the three that pays for this service. Why do we pay? You're not allowed to ask that question… just pay the bill.
The council has passed over on the agenda, for the past couple of meetings, a proposal to pay legal council for any frivolous and harassment lawsuits against councilmen. I'm not sure if this is for any present lawsuits or future lawsuits but it's my opinion that they need to go ahead and vote for it. I do not have an issue with this and I support them one hundred percent. We have to protect them or stop expecting them to do what they were elected to do. Lawsuits can be filed for any reason. If anyone has the money to hire a lawyer, they can file a suit. If the courts rule that it's frivolous, they will have to pay the defendants attorney fees, but they have the right to sue and we have an obligation to protect our councilmen.
Another headache will be the phone call after phone call that you, as a councilman, receive everyday from constituents. The majority of the residents in Livingston Parish don't understand the way our parish operates under our home rule charter. People still think of the old police jury days and they want to call their councilmen for all of their issues. People need to understand that they are supposed to call DPW for all of their needs. If you have a drainage issue, a road issue, stop sign issue or maybe want to lower your speed limit you need to call DPW, not your councilman. If DPW doesn't address your needs, then you may want to call your councilman.
All of the above is my opinion based on my own observations while attending council meetings for the past six years. Some councilmen may feel different and I respect their right to do so. I believe that the majority of the council are very good people. Although I don't agree with them all the time, I do appreciate the debate that they offer me when I don't agree.
Parish Continues to Waste Our Tax Dollars

This coming November the Parish will ask you to renew a millage that supports DPW. They will tell you that without this renewal DPW can't be funded and that the parish will be forced to lay off the DPW workers. I find it hard to support this renewal when the Parish continues to pay 100% of the insurance cost for employees and their families. The employees don't have any out of pocket expense for this coverage. They receive a debit card that covers their deductibles. This policy for the DPW workers alone costs the parish 1.2 million dollars per year and continues to increase 10 to 15 percent each year. I hope to meet with Parish President Layton Ricks and the members of the Parish Council to discuss what they are going to do to cut the cost of this insurance. I hope that these meetings will assure me that they will revamp their insurance program. The amount of coverage that employees receive needs to change. They need to work diligently toward making sure that the parish receives multiple quotes from multiple insurance agents. I hope that this can be accomplished but I have my doubts. Last Thursday night the finance director notified the council that they had changed the Agent of Record for the health insurance. This was a violation of a resolution that was passed by the council on October 18, 1991 that stated that The governing authority will accept the lowest quote for group health insurance from any agent providing that quote has the best coverage for the money and the agent submitting the accepted quote will be the agent of record for the policy period.

February 11, 2004 Mr. Grimmer changed the record of agent without the council's approval and he was forced to reverse that change after a council meeting on April 08, 2004. At the council meeting Blayne Honeycutt stated that the health insurance contract does constitute a Professional Service Contract and any Professional Service Contract MUST be approved by the council according to the Home Rule Charter.

I believe that Mr. Ricks' assistant and former council clerk Mary Kistler was aware that that Mr. Ricks' administration was not allowed to change Agent of Record without council approval. September 21, 2011 Mary Kistler forwarded the minutes of the April 08, 2004 meeting and her summarization of the council being required to approve contracts to Mr. Ed Knight with Alvin Fairburn and Associates. This was a month before the election and Mr. Ricks was still employed by Alvin Fairburn and Associates.Click here to view the email.Click here to view the meeting minutes.

With Administration's sneaky behind the scenes change of Agent of Record this week I believe it will be same insurance renewal procedure as we have seen in the past. The Parish will manipulate who can quote the insurance and it will be a last minute decision that will have to be voted on the week of the policy expiring. unfortunately this will happen after the DPW millage renewal election. By appointing someone new as Record of Agent it almost insures that that person will be the agent quoting for the new term. Blue Cross will only quote that agent if you have a Agent of Record. In previous years Blue Cross was the only company that would quote the Parish. One reason may be because of the potential abuse and possible losses due to no out pocket expenses by the employees. If the insurance companies know that the Parish is changing the amount of coverage that is paid for by the parish and raising deductibles to try and control cost. We may receive more quotes.
If the Parish doesn't show the citizens that they are serious about lowering the cost to the parish for employee health insurance we need to defeat this renewal come this November.
Council Questions Check

ARTICLE BORROWED FROM THE LIVINGSTON PARISH NEWS PAPER BY ALICE DOWTY
The new Parish Council and Parish President are headed for an apparent showdown Thursday over the chief executive's authority to sign a check to his former employer days after assuming office.
Parish Council Chairman Cindy Wale says the check issued by Parish President Layton Ricks was done improperly. Ricks dismisses the criticism is "a non-issue."
The administration needs a confirmed Finance Director to issue properly authorized checks, states a memo Wale sent Wednesday to other parish councilmen and to Ricks. The Home Rule Charter "expressly provides that disbursement of funds is the responsibility of the Finance Director," Wale wrote.
Councilmen must confirm the Finance Director, according to the Charter. Ricks has not asked the council to confirm Laurie Durnin, whom he calls an "interim" finance director.
"This is a "non-issue," Ricks said Thursday. "We are just doing things the way they've always been done," with the finance director and Parish President both signing each check.
Ricks said his interim finance director has the same authority as a permanent finance director who has been confirmed by the Council.
Wale said Thursday that she could find no reference to an interim finance director in the Home Rule Charter.
Parish checking account authorization is on Thursday's Council agenda.
District Attorney Scott Perrilloux, who is currently acting as parish government's legal adviser, could not be reached for comment.
"We don't have a Finance Director at this time," Finance Committee Chairman Marshall Harris said.
An ordinance gives the Finance Committee Chairman the authority to co-sign a check with the Finance Director, Wale said.
Former Parish President Mike Grimmer said that when he first took office, only the Finance Director signed checks, as specified in the Home Rule Charter.
"I kept the Finance Director from the previous administration, but I did ask the council to pass a resolution to require that my name also had to be on the checks," Grimmer said.
That resolution specified "Mike Grimmer," and not all parish presidents, Grimmer said.
"The bank was given a copy of the Council's authorization, so it would have a document to consult if any question was raised about whose signatures had to be on a check," Grimmer said.
Wale said she was looking into what documentation the bank had authorizing the signatures of Ricks and Durnin.
Ricks said Thursday that he has not spoken with the bank, but does not see the problem.
"The Home Rule Charter says a check from the parish must have the signature of the Finance Director, who must first be approved by the Council," Grimmer said. "The Council gave the Finance Committee chairman the authority to co-sign, but that was to make sure check-signing could continue if I was unavailable." Grimmer said.
Former finance director Stuart Sonnier gave notice that he was resigning at the end of Grimmer's term.
Grimmer said he and Sonnier caught up with the check signing before they left, giving Ricks time to get his nominee approved.
"I hope that Mr. Ricks moves on this as fast as possible," Harris said. "We're already facing some issues about questionable checks."
Wale said she would vote to give Ricks check signing authority, if he asked for it the way Grimmer did.
"But that still wouldn't give us a Finance Director," Wale said. "As far as I can tell, the only person with check signing authority now is Marshall Harris, but that isn't good enough because the Charter says the Finance Director is the person responsible for the disbursement of funds."
Ricks said he and Durnin approved a $453,000 check before the first Council meeting. The check was written to Ricks's former employer, Alvin Fairburn and Associates, and cashed at Hancock Bank.

The former council passed a resolution telling Grimmer to pay Fairburn, and District Judge Zoey Waguespack ruled that the check had to be issued based on the Council decision.
First New Council Meeting (Published January 16, 2012 By Earl Price)


At the first council meeting for the new council they showed us how a meeting should be conducted. Council Chair Cindy Wale made it clear that the meetings would be orderly and laid down the new rules. One rule that was long overdue was the lack of respect for the council offices. For the past two years there have been many unauthorized people coming and going into the offices during the meeting despite the sign on the door that reads "Authorized Persons Only". At the same meeting the new Parish President, Layton Ricks, showed his true colors. He proudly boasted that he had already signed the check and paid Alvin Fairburn and Associates for work that was disputed by former Parish President Mike Grimmer. Mr. Ricks was very aware of the reason the past administration refused payment, and knew that the new council was prepared to rescind a previous resolution authorizing payment. He knew that the money was not included in the budget and he doesn't have the authority to make such large changes to the budget without the council's approval. If the check has already been cashed the council needs to take further actions to recover those funds until all uncertainties are cleared up. They do not need to let this just go away. Although Mr. Ricks campaigned for six months telling everyone that he wanted to work with the council, it only took him one day to draw the line in the sand after being sworn in. Mr. Ricks knew that his actions would not sit well with the new council and the citizens of this parish but didn't care. Mr. Ricks showed the people of this parish where his loyalties really lay. To prevent this from happening again the council should pass an ordinance that requires a councilman signature on any check over a certain amount.
The new council will have their work cut out for them for the next four years. The battles between them and the parish president will be frequent and intense at times. They need to seek outside legal advice from someone other that the District Attorney or his appointments. The next battle will be an engineering selection committee and animal control that the parish president will try to push forward. This council needs to oppose any selection committee that it proposed my Mr. Ricks. Given his previous employment in an engineer's office and the large amount of contributions given to him by engineers the council needs to stop that committee before it starts. Pass a resolution that requires all engineering selection to be performed by the council in open public meetings. Make sure that any criteria used for scoring does not give preference to companies that are local in the parish. They need to remember that competition is what gets the best proposals and they shouldn't be willing to pay more just because someone is local.
They need to review the current contract with Alvin Fairburn and Associates and see if it can possibly be terminated and a new contract be contracted out at a competitive price and for a shorter duration. Never again should the council award a contract for such a long term. Livingston Parish is probably the only municipality in the state that has awarded such a contract in excess of ten years. They need to have an independent lawyer compose these contracts and then enforce the language that is written in them. The language in the body of a contract is there to protect all involved and shouldn't be ignored because that is how it was done for years before.
I would have thought that Mr. Ricks would have discussed with the council who he intends on hiring for his office and other positions that he is responsible for. He can hire who he wants but the council has to approve them and their salaries.
I am glad that Mr. Ricks want to make it a priority to have animal control in this parish. In doing so the council needs to be smart about it. This parish can not afford the financial drain of a NO Kill animal shelter. The parish can not afford to house stays indefinitely. To fund any kind of animal control will take some sort of funding mechanism in the form of a sales or property tax. This will take a vote of the people and they will not want to hear a year later that the tax voted on isn't enough. A No Kill shelter has to take all strays and keep them forever until they are adopted out. Most No Kill shelters become a cancer to a municipality's budget.
Overall the first meeting was a good start. I only wished that they would have put more heat on Mr. Ricks for signing that check to AFA without discussing it with the council. They need to make sure that this just doesn't get swept under the rug. They need to have a independent lawyer review all minutes and determine if the work was authorized. If it wasn't then they need to file suit and recovery the money. This will not be hard to do if they seek legal council from a independent lawyer and not the DA or his appointment.
I also want to see the council take over the video recordings of the meetings. It is council meetings and it should be the council doing the videos. The only reason that the administration videoed the meetings before is that the previous council majority did not approve of videoing the meetings.
Employee Health Insurance (Published December 09, 2011 By Earl Price)


As a local business man I understand the rising cost of healthcare for employees. The past several years we have been hit with increases of ten to fifteen percent a year. When this happens we have to make decisions that affect our company and our employees. It is impossible to sit back and absorb the cost. With the health insurance cost rising so much we now take quotes from several agents instead of the same one year after year. What's agrivating is that an insurance company will only quote one agent. Once an agent contacts a company such as Blue Cross to get a quote for us then they are locked in with Blue Cross and they will not quote any other agents. You can still have more that one agent quoting you but tell each one that they are only allowed to lock in two insurance companies each. Once you have received quotes you should be presented with several options. For example this year we were presented with five different options. To stay as we were we would have to pay a thirteen percent increase. Other options were presented that slightly raised hospital deductibles but only increased the cost by five percent. As much as we would have liked to keep the same coverage as last year it was not feasible.


The parish employee's insurance coverage is facing a thirteen percent increase this year which amounts to three hundred thousand dollars that the parish does not have in the budget. We are faced with this increase because the council chose to have a small group of councilmen be in charge of the health insurance. This should have been handled by the entire council and not just a chosen few.


There are some parish employees that make below average pay and they depend on the health insurance that is paid 100% by the parish. This needs to be changed we can't afford to continue paying thirteen percent increases each year. We need to bring the pay level up to the same as they would be making if they worked for a local company and reduce the coverage to the same as provided by local companies. Typical coverage is fifty percent of the employee and their family.


Councilmen Jimmie McCoy stated that three or more companies did not even want to quote the parish and Thomas Watson presented the letters. One of the reasons for rejection may be because the parish provides 100% coverage. When an employee doesn't have to pay any out of pocket cost they may tend to go to the doctor for little things that do not warrant a doctor. When a employee has to be deductibles out of their pocket they tend to only go to the doctor when the absolutely necessary. When they change the coverage more insurance companies will quote them.
Denham Springs Loop Meeting (Published December 08, 2011 By Earl Price)



Wednesday night's loop meeting was rather disappointing for me. The first thing that bothered me was the small amount of people that attended the meeting. Nearly half the crown appeared to be elected officials and the media. The group presenting the so called meeting made up another large portion of the crowd. I don't think the people realized the importance of this meeting. The loop group was testing the waters to see how strong the public may be against the loop now that time has passed and the new has worn off of the loop concept. This meeting was also their way of saying that here we come and you can't stop us this time.


The group presenting the meeting appeared to me to be a group of high paid public relations people trying to take something that would be bad for most of the people in this area and sell it as something good. There wasn't anyone taking questions and answering them out loud to the audience. The meeting was set up like four or five meet and greet stations. That seems to be the new trend in dodging the truth. The station that the majority of the people seemed to be interested in was the large map that people could view and look for there home to see if they would be impacted. The problem with the map was that they used a 2006 printed map that did not show many of the newer subdivisions as well as new schools that have been constructed since 2006.


The group had a photographer walking among everyone snapping pictures of everyone as they visited the individual stations. What will they use the photos for? Will they use them in other meetings to try and show that the people of Livingston Parish welcomed the loop?


Although I do not think that we will see this loop in our near future, they will continue to push forward. There is so much money involved with just the studies alone and firms that do these studies are going to push to keep it moving forward. We need to contact all of our elected officials and tell them that we do not want this loop.



This Website Contributes to Council Races (Published Novemebr 28, 2011 By Earl Price)


I started this website to provide a place for Livingston Parish voters to visit so they would know everything that their councilman was doing. It soon became apparent that many of the councilmen were more interested in serving themselves and not the voters. This website became a thorn in the side to many of the councilmen and they tried to have this website shut down. When they were wrong this site let you know it and when they were right I also let you know it. It was my opinion that there were six councilmen that needed to be removed from office and five of them are no longer in office. Ronald Sharp is the only councilman out of the six that was re-elected to office.
Two councilmen who repeatedly stood up against the six were easily re-elected. Cindy Wale and Marshall Harris have fought for the people of this parish and the people repaid them by re-electing them.
The one race that surprised me was the Parish President's race. The people of this parish have just been shown that a race can be bought. Big money bought and paid for Layton Ricks campaign. The people will soon see that Layton Ricks is not the right person to lead this parish. He had a third party person do all of the mudslinging so he could keep his hands clean. He had several endorsements at the last minute that will probably be regretted by the endorsers in the near future. There were people with their own personal agendas against Mike Grimmer that were endorsing Layton Ricks in an effort to get back at Mike Grimmer. The people of Livingston Parish let down a man who has stood up for them over and over. I may be wrong about Layton Ricks but I wouldn't bet on it. I have seen firsthand Layton Ricks reaction when he doesn't agree with a constituent. Only time will tell and this website will be there to cover it.


He stood up for when it was the right thing to do. Will you stand up for him on November 19th and vote? (Published November 15, 2011 By Earl Price)


Four years ago, the Livingston Parish majority was happy with Mike Grimmer's performance through his first term and he was re-elected to office for a second term. He had no idea the battles he would face throughout the following four years. The council had two new members that quickly joined forces with four earlier seated members. This new majority of six brought havoc to the council. Mr. Grimmer stressed that the council should follow their own ordinances and stop paving roads that were no more than a driveway. The renegade majority continually turned their noses at him and added more driveways to the list. This was a total disregard of Mr. Grimmer and their own ordinances. There have been only three councilmen who stood up to the "good ole boy" majority and they were always outnumbered and defeated.
A group of citizens saw what was going on and began attending meetings to find out why the council was wasting our tax dollars. The citizens approached the councilmen and attended special meetings to try and bring resolve to this issue. They were met by the angered majority who felt they should butt out and mind their own business. Meanwhile, the press was shedding light on the issue and the defiant majority came under fire from the public. The council tried to get control of the issue by attempting to hire a public relations person to improve their image. They could not find the money to pay the consultant and that idea quickly went away.
Feeling helpless, the citizens decided to exercise their rights as given to them in the Home Rule Charter. They introduced a road petition at a council meeting and were given only sixty days to collect ten percent of the registered voters' signatures. These citizens canvassed the entire parish with volunteers, sacrificing their summer, collecting the required signatures plus an additional several thousand more. With this petition, they put an end to the council bringing substandard driveways and "so called" roads into the parish maintenance system. The citizens took it a step further and met with their District Attorney. They examined the existing ordinance and the District Attorney agreed that the council had not been following the existing ordinances when taking in roads. He addressed the council members at the next meeting and advised them to follow the existing ordinance pending the ratification of the new ordinance. The "majority" was furious and made the statement that they would not pave any roads until the ordinance was changed back. (Click here to read the article about him addressing the council.)
The council majority was furious that they could no longer do as they pleased. They blamed Mr. Grimmer for this and immediately assumed that Mr. Grimmer had put the citizens up to doing the petition. The lines were drawn and the council majority started a battle that would last another three years. They removed Mr. Grimmer from sitting with the council and placed a very small chair and table for him in front of them, reminiscent of a teacher setting out a trouble maker in a classroom. The council "majority" decided that they would start taking powers from the Parish President and give it to themselves. They advertised for a company that would run the parish government and take on most of the Parish Presidents duties.(Click here to read the advertisement) The advertisement was written by Thomas Watson and in my opinion was an embarrassment to the parish. The advertisement stated that bidders would not have to follow any bid laws and that the contract amount could be negotiated later. They only received one proposal and it was from a bogus company named CBS and signed by Patterson Phelps. This proposal was an attack on Mr. Grimmer in an effort to make him look bad I believe that the proposal was possibly written by one of the councilmen or someone close to them.
(Click here to read the proposal)
Another big battle for Parish President Grimmer has been the debris issue. People today still don't truly understand what happened. The problem started the night before Gustav made land fall.
(Click here to hear the audio of how it began).
A small group of councilmen were in contact with IED the day before the storm and held a special meeting to hire IED. After the storm, IED proceeded with emergency debris cleanup work under a contract that was signed by Mr. Grimmer.
(Click here to review the contracts)
The majority of this debris was hauled to burn sites around the parish. Some of the burn sites were questionable, those burn leases were signed by Jimmie McCoy.
(Click here to view the burn contracts.)
There was a subsequent addendum to the contract that authorized IED to clean the canals.
(Click here to view the addendum.)
Before the canal work started, two councilmen went to the Drainage Boards and persuaded the Boards to join in under the parish's contract letting IED do the work in the drainage districts as well. The Drainage Boards were even given a contract of their own that clearly stated that they would be responsible for ineligible debris removal.
(Click here to hear one of the drainage board meetings where they were bullied and persuaded by the councilmen to enter into an agreement with IED
.) After all agreements were in place, the drainage districts, government officials, monitors and a couple councilmen had a kick off meeting to discuss procedure. In this meeting it was mentioned that permits would need to be obtained from The Corps for work in the canals. Jimmie McCoy responded by saying that we're not going to do that. He stated that if we wait on The Corps we would all flood.
(Click here to hear the audio of those comments)
As the debris removal progressed, it became obvious that something wasn't right. The parish received 40 PW'S from FEMA. A PW is a work order for work completed. These PW'S require someone to sign them certifying that the work had been completed per FEMA'S guidelines. FEMA will eventually do an audit within a couple of years. The person signing the PW has to put his name on the line and will be personally responsible if a FEMA audit comes back saying that work wasn't performed within guidelines. Once the PW"S are signed, FEMA deposits the money into an account and the parish has three days to disperse the money. The first forty totaled up to 3.7 million dollars. When PW number 41 came in, it was for 42 Million dollars and was addressed to Mr. Brian Fairburn and all it needed was his signature. The PW was returned to FEMA by the parish and back to the parish by FEMA, this time it was requesting Mr. Grimmer's signature. I can only imagine that Brian Fairburn would not want to sign such a large PW. When Mr. Grimmer was contacted and presented the PW you can only imagine how shocked he was to see 42 million dollars on that PW. At this same time people begin calling his office complaining about the debris contractors clearing wide right of ways on their property to clean canals. It was also discovered that debris was removed that did not qualify. In order to qualify the debris had to present imminent threat to the people of this parish. I have property where they cleaned a canal and there wasn't anything new from the storm in this canal but they went right through it removing old debris that did not qualify. When we visited our property there wasn't a monitor on site. They had to call one to come to the site and talk to us. With the new discoveries, Mr. Grimmer had no choice but to stop the work and request that FEMA review it now instead of two or three years later.
Shortly after Parish President Grimmer stopped the work, the Corps issued a cease and desist order for any canal work in the parish. It was at this moment that I knew without a doubt, Mike Grimmer had done the right thing. If he had signed the PW, the parish would have been on the hook for 42 million dollars. During the shutdown, a Legislative Audit commenced because of flags that was raised. (Click here to read the audit.) The next thing confirming that Mike Grimmer did the right thing was FEMA'S denial of payment for the work completed. (Click here to view the FEMA letter) Now the appeal has gone to Washington, D.C. and I assuming that they are waiting until after the election to rule.
I remember when a contractor spoke at a council meeting. The contractor had talked to Mary Landrieu and she said the reason FEMA had not paid was because Mike Grimmer was not begging FEMA to pay. This contractor did not care if the debris removed was eligible or not. He felt like the government has plenty of money and will pay it regardless of right or wrong, just as long as you ask. The council tried to force Mr. Grimmer to sign a letter that would be sent to Washington, D.C. stating that the contractors had performed the work properly. (Click here to read the letter) Mike Grimmer did not want to sign the letter in the form presented to him. He had several changes that he wanted to make to the letter. (Click here to view his recommended changes to the letter.) Mr. Grimmer knew it was his job to protect the people of this parish. He understood that if he signed the first letter, it would surely be used against the parish by IED at a later date. IED has since filed a lawsuit against the parish and they are awaiting the final appeal in D.C. before continuing. (Click here to view the lawsuit)
There has never been a day that I doubted Mike Grimmer's decision to stop the work and asking FEMA to review it.
Another battle that Mike Grimmer is dealing with is developers trying to build large scale housing developments in our parish in areas that are congested and can't handle the additional traffic or the impact on our schools. Mike Grimmer has had to send out letters that put him on record as not supporting these developments. He could not stand by and support something without being assured that the developer had considered the traffic impact and discussed with the School Board how to handle the influx of school children that would come with the development. With so many unanswered questions he opposed these developments and one of the developers has filed suit against Mike Grimmer and the Parish.
(Click here to view the lawsuit.)
It deeply saddens me to see a man that has stood up for this parish being attacked the way Mike Grimmer has during this election. The developer that has filed suit against Mr. Grimmer and the parish has vowed to spend 100,000 dollars toward unseating Mike Grimmer. He has placed billboards throughout the parish and run full page ads in newspapers that painted Mr. Grimmer as a tyrant. He has paid for television commercials that I would not want my children seeing. This developer has even used a picture of Mike from a church Christmas play in is advertisements. I can't imagine someone having so much hate for another person that they would do this.
In viewing Layton Ricks' campaign reports, it bothers me to see people that Mike has stood up against are funding Mr. Layton's campaign. I saw Mr. Ricks walking in a veteran's parade this week passing out cups that may have been paid for with IED contributions. Although there were other candidates riding in the parade, they kept it about the veterans and not themselves. Mr. Ricks brings too much risk along with him to be Parish President. We can't afford to have him in office because the people he will need to defend us against are the ones that got him in office.
Another important issue at stake is the changes that came with the road petition. Many developers would like to see the changes reversed so they can build cheaper subdivisions. Just ride through some of the big subdivisions such as Woodland Crossing and notice the roads falling apart. The man who led the charge and initiated the petition is Scott Jones and he is running for Councilman District 6. Scott has run a clean race and has been extremely cautious about who he takes money from for his campaign. His opponent, Sonya Collins, has received three times the donations that Scott Jones has and poured a lot of money into this campaign. Developers have donated extremely large amounts of money to her campaign. If you have been following this website for the last several years, then you know that Scott Jones is one of the few that has stood up to the council majority and is trying to protect this parish from government wasteful spending.
This Saturday I ask you to please vote for the right people so our parish continues to move in the right direction. A couple of the "council majority" have chosen to not run and one has already been defeated. Two of the "good ones", Cindy Wale and Marshall Harris, have been re-elected so we are off to a good start. To finally have a council and a Parish President that will move this parish forward without all of the drama, we need to finish the job and go vote this Saturday. Please vote for the following:
Mike Grimmer - Parish President
Chance Parent - Councilman District 1
Jim Norred - Councilman District 2
Scott Jones - Councilman District 6
Delos Blackwell – Councilman District 9






The Loop is Back(Published November 3, 2011 by Earl Price)


If you think that the loop is dead you need to click here and read the latest news. The battle over the loop is about to get heated and we need to have someone in office that will stand up and protect our parish. Mike Grimmer has already showed us that he will defend us against the loop. We do not know what Alvin Fairburn and Associates Operation Manager who is running for Parish President will do. I do not feel that he will do the same as Mike grimmer. Read the document and then share it with others.




Dave Roberts Lawsuit Against Grimmer and Myself (Published November 2, 2011 by Earl Price)

A lot of people have asked me about Dave Roberts lawsuit against Mike Grimmer and myself. I want to post the lawsuit for everyone to read. To view the lawsuit click here. Dave Roberts has paid for the anti grimmer website, billboards and television commercials. I hope that this document answers many of the questions that I have been asked about the lawsuit.



The People Have Spoken (Published October 24, 2011 by Earl Price)
The results from Saturday's election clearly show that the people of Livingston Parish want a council and Parish President that will work together to continue moving the parish forward. The results show us that the citizens of this parish want to replace the ones who are there to self serve their own interest and replace them with people who will conduct themselves professionally while in office. Cindy Wale and Marshall Harris were rewarded by the voters for the hard work that they have done for the past four years. They both easily defeated their opponents and won their seats for another four years. District seven and district five voted for a change and elected Ricky Goff and Joan Landry as new councilmen to replace Thomas Watson and Buddy Mincey. Two other incumbents that are in trouble and forced into a runoff are Randy Rushing and Eddie Wagner. Randy Rushing was only leading his challenger Chance Parent in the primary by thirteen votes. Eddie Wagner is trailing behind challenger Delos Blackwell. In district eight incumbent Ronald Sharp won his re election but only by a slim margin. In district two there wasn't any incumbent, but with three candidates running a runoff was inevitable. There will be a runoff between Dean Erwin and Jim Norred. Jim led the race but was just short of the fifty percent plus one required to win an election. In District six there wasn't any incumbent and there will be a runoff between Scott Jones and Sonya Collins. Sonya led the race but did not receive the fifty percent plus one needed. Scott Jones is well known throughout the parish for his work with numerous civic groups and his work with the road petition that brought Livingston Parish road standards up to the same as surrounding parishes.
The Parish President's race also resulted in a runoff between incumbent Mike Grimmer and challenger Layton Ricks. Mr. Grimmer was leading the race and had a five percent lead on his opponent. It is clear that the people want to keep Mr. Grimmer in office. Mr. Layton Ricks is currently the operations manager for Alvin Fairburn and Associates and his campaign manager is Alvin Fairburn's wife, Christa Fairburn. This website has been very critical of Mr. Ricks connection to Alvin Fairburn and Associates and will continue to be. Alvin Fairburn and Associates were the monitors for a large portion of the debris debacle and FEMA has denied payment for most of the debris work. Next year the parish will most likely have to file suit against Alvin Fairburn and Associates if the appeal is not successful and I feel that Mr. Ricks will have a problem doing so. Alvin Fairburn has millions at stake and they are running their operations manager for Parish President. Does anyone else see a problem with that?


Layton Ricks has accepted large sums of money from IED owners and their friends and family. IED currently has a lawsuit filed against the parish for tens of millions of dollars. The lawsuit will not go to court until next year. If Mr. Ricks is elected do you thinks he would stand up to IED and defend this parish? I hope that the people of this parish look at these facts and vote to keep Layton Ricks (Alvin Fairburn's operations manager) out of the Parish President's office.
It's Time To Vote The Bad Ones Out (Published October 20. 2011 by Earl Price)
Updated October 21, 2011 Please read again



The election that we have been waiting on is only two days away. Most of you who are reading this know that I have worked hard to expose the council and all of their wrong doings. For three years I have tried to keep you informed so that when this election came you could make an informed decision as to who to vote for. We cannot forget what these councilmen have done not behind our backs, but in our face. The one good thing that we have going for us is that Jimmie McCoy and Don Wheat have chosen not to seek re-election. However there are others that need to go and we need to vote them out. The top of my list is Thomas Watson. Through my observations of Thomas for the past four years it is my opinion that he has been the right hand man for Jimmie McCoy and Don Wheat. He is always trying to manipulate the media to try and make himself look as if he is doing a good job. Now that it is election time he sends letters to people saying that he supports numerous projects in their area. Why did he wait until the end of his term to support these projects? I remember when he wrote a request for proposal seeking to find a company that would take over all of the council's duties. Click here to see a copy of the request for proposal. I also remember reading the only proposal that was received by a bogus company that did not exist. It will always be my opinion that Thomas Watson wrote the proposal also. Click here to read a copy of the proposal. It's my opinion that he wrote the proposal hoping to somehow make President Mike Grimmer look bad. It's my opinion that he thought that by the time everyone figured out the company did not exist it would be too late.
The next two that need to go are Eddie Wagner and Ronald Sharp. Neither one of these men have brought anything to the table. I constantly hear that the East side of the parish gets the short end of the stick. Let me tell you why. Eddie and Ronald are to busy doing whatever Jimmie wants. Eddie and Ronald have never fought for the east side of the parish. If you live in District 8 or 9 you need to vote these guys out and put some new blood in there.
The next target is Randy Rushing. Randy Rushing as an individual is a great person. As a councilman he has done a bad job serving the people. He has been involved with the paving of numerous driveways throughout his district. He has let Jimmie McCoy have free rein of the meetings even while he was Chair.
There are three current councilmen that have tried to conduct meetings in a businesslike manner. They have stood up to the Shady Six many occasions. These three are Cindy Wale, Marshall Harris and Buddy Mincey. I support Marshall and Cindy and wish them all the luck in the world. The only issue that I take with Mr. Buddy is his loyalty to Fairburn and Associates. I know that he was a good friend to Mr. Alvin Fairburn Sr. but he needs to forget that friendship when it comes to parish business.
We need to be cautious of who we vote for councilman. Jimmie and Don have chosen their replacements and they are supporting them. We should also beware of other newcomers who have their own agenda. Dean Erwin from Watson has already said that he first called Jimmie McCoy and asked him for his blessing. Just look at his face book page and you will see that Jimmie and he are friends. Another friend of Jimmie that is running is Elvis Tuberville. Friends of Elvis have contacted me and told be to beware of Elvis for that reason. Another candidate that I believe he has been put up to run by the powers to be is Chris Davis. Chris was recently elected to the Denham Springs City Council and now has a bigger dream. This is the same Chris that voted to place a fence around the Kidz Korner Playground in Denham Springs. Then when it came back to the council he was still trying to compromise with the man who wanted the fence. Chris just can't make his mind up. The next candidate is Chad Pope. Chad may be a good man but he is in this race for the wroing reasons. Chad was also involved in the Debris Debacle. The Fema website list Chad as one of the ones who provided a burn site to the parish. The last new candidate that you need to beware of is Sonya Collins. Sonya Collins told many people at the council meeting that she was friends with Don Wheat and she would not have ran if Don had seeked re-election. Sonya has taken eight thousand dollars from builders and developers that would benefit if the new road standards were changed back to the old ones. Ride through any of the new large tract sub divisions such as Woodland Crossing South Point and South Haven and you will see roads that were built to the old standards falling apart. We can't afford to roll back the standards.
The most important race of all is the Parish President race. Never before has so much been at stake. Layton Ricks the operations manager for Alvin Fairburn and Associates is running against Mike Grimmer and he has accepted large donations from IED, who is suing the parish for over forty million dollars. If elected it would be hard for Mr. Ricks to stand up to the company that has supported him. He has also taken in fifteen thousand dollars from a construction company in Baton Rouge. This includes the owner, his wife, his son and two of his executive officers. Mr. Ricks claims that he will work to repair the relationship between the council and the Parish President. I want someone who will do exactly what Mike Grimmer has done and stand up to the council when they are wrong. I could go on for hours telling you why you should not vote for Layton Ricks and I could give you a million reasons to vote for Mr. Grimmer. However if you are a follower of this website you are already aware of this.
I want to come out and say that I support and ask that you vote for the following:
Mike Grimmer
Chance Parent
Jim Norred
Cindy Wale
Marshall Harris
Joan Landry
Scott Jones
Ricky Goff
Curtis Hoover
Delos Blackwell
More Big Money Contributed To Layton Ricks (Published October 18, 2011 by Earl Price)


Layton Ricks receives more big money from owners of IED. Look at Layton Ricks latest campaign finance reports and you will see family members of the company that performed all of the debris work after the storm. This same company has a lawsuit filed against the parish.


It would seem that the easy way to get paid is to help put people that you feel may help you by being in office. Maybe they feel that Ricks will ask Mary Landrieu to help and it will all go away.


You will notice on the campaign reports that they are signed by Christa Fairburn whose company is billing for millions of dollars for monitoring IED's work.


Keep in mind that Layton Ricks is the operations manager for Alvin Fairburn and Associates. It would seem that IED and Alvin Fairburn both have a vested interest getting Layton Ricks elected.


The following insert was taken from a recent story published in the Baton Rouge Business Report. The article was written by J R Ball.


This is a campaign about a company—Alvin Fairburn & Associates—with deep local political connections wanting even more power in the parish. Both challengers in the race are there because this engineering, architectural and land planning firm wants them there. Company officials first convinced Donald Burgess to enter the race against Grimmer, and then, after deciding he likely could not win, pushed Layton Ricks, who happens to be an operations manager for the company, to join the fray.


For those keeping score, Fairburn & Associates is one of the firms hired by the parish council—over Grimmer's objections—to monitor debris cleanup work following Hurricane Gustav. The $62 million controversy surrounding the FEMA project has become a bigger disaster than the one that created the canal-clogging debris in the first place. This is also the firm that has done battle with Grimmer over road engineering work and a contract for a land use master plan project.


It would seem officials at Fairburn & Associates are tired of having Grimmer stand in their way.


Look at some of the earlier reports and you will see where fifteen thousand dollars came from a Baton Rouge contractor, his family members and two of his executive officers. I'm not sure what their interest is but it sure makes one wonder. And regardless if Ricks amits it or not David Roberts smear campaign is just another part of his campaign. He will never say anything negative about the Dave Roberts attacks on Parish President Grimmer
The Jones/Price Road Petition Chnages May be in Jeporady (Posted October 5, 2011 by Earl Price)

Before you vote for your parish councilman ask your candidate if he will fight to uphold the changes brought forth by the road petition. Two years ago builders and developers benefited from the sub standard requirements for roads built in new subdivisions. Just drive through and of the new large subdivisions such as Woodland Crossing or any of the DR Horton subdivisions. The roads are already falling apart and need repairs. These repairs will cost the tax payers of this parish hundreds of thousands of dollars.
The builders and developers would love to change the new stringent requirements back to the the old requirements. Pay attention to the contributions of each candidate and be on the look out for large amounts from builders and developers. Most of them will give the maximum under their name and their spouse's name. You can view the campaign reports here.


Baton Rouge Enters the Parish President Race (Posted September 25. 2011 by Earl Price)

Big money from Baton Rouge has taken a special interest in electing Layton Ricks. Click here to see a list of the contributors who have gave $250 or more to Layton Ricks. Most of us look at the list and only see the person's name and we don't relate the name to any particular company. You may want to Google some of the larger contributors and see who they work for and then ask yourself why someone in another parish take such a interest in Livingston Parish. You should also Google the companies that gave large contributions and see who owns them. There will be alot of special interest from Parishes other than Livingston who will try to help unseat Mike Grimmer. If you are wondering why just think about some of the things that he has taken a stand against He has stood up against the loop and HUDD Housing projects. People want him out of office for this reason.

I support Mike Grimmer and I hope that you help re-elect him to office for another four years.




Grimmer must hire own appeal lawyer

( This story was copied from the Livingston Parish News. You can view and comment on the story at www.livingstonparishnews.com)
LIVINGSTON - On the same night an engineer gave the Parish Council some good news about the parish road program, Parish President Mike Grimmer took a blow.
The Council rejected his request to authorize an attorney to help him avoid paying most of the road engineer's bill. The dispute is part of a long running conflict between the executive and legislative branches over the past four years.
Councilman Buddy Mincey lambasted the body after the 6-3 vote as a slap in the face of the parish CEO for personal reasons. Grimmer plans to appeal a district court ruling that he must pay the entire $453,000 bill, contending only $152,000 of it is justified.
Meanwhile, engineer Eddie Aydell of Alvin Fairburn & Associates told the Council that bids for the road list set for improvements this year came in below expectations, leaving the parish with approximately $500,000 in road funds to do more work.
The Council quickly and unanimously approved the bid of Coastal Bridge Co., LLC, for $2,993,230. Aydell said the low bidder from among four should be able to mobilize in 30 to 45 days. The company will have 160 days to complete the work.
Grimmer believes the parish should pay the $152,000 cost for engineering on those roads, but no more. The Council voted this summer to order Grimmer to pay the entire amount. When he refused, the two firms involved, Alvin Fairburn and Associates and McLin and AsCsociates, took the Parish President to court and won. Grimmer wants to appeal, but the Council refused to authorize an attorney for that purpose. Parish Council legal adviser Blayne Honeycutt, an assistant district attorney, cannot represent the Parish President in the matter that pits him against Council.
After losing the vote, Grimmer told members he had anticipated that possibility and is prepared to pay for his own defense.
Mincey said he is "ashamed" of the council, but predicted things will change in January under the next council because some of the current members "won't be back."
Two incumbents, Jimmie McCoy and Don Wheat, are not seeking reelection, while the other seven all have at least one opponent on the ballot Oct. 22. Voting to deny Grimmer the attorney were McCoy, Wheat, Randy Rushing, Ronnie Sharp, Thomas Watson and Eddie Wagner. Mincey, Marshall Harris and Cindy Wale voted for the attorney.
The $453,000 bill is for engineering on $12 million worth of roads which have been characterized as a priority list, though the parish is far short of the money needed to improve them all.
Grimmer maintains that the work was never authorized according to the terms of the engineering contract with the parish, but the Parish Council passed a resolution Aug. 9 directing Grimmer to pay the bill anyway. On Sept. 2, 21st Judicial District Judge Zoey Waguespack issued a writ of mandamus compelling Grimmer to have a check signed within 28 days. Grimmer said after the 45-minute hearing that Waguespack's decision would be appealed.
After the Council refused to provide the attorney, Grimmer complained of inconsistency since it has authorized legal fees for numerous appeals in several other cases.
"I will take this appeal on my own, not only for the people of Livingston Parish, but for parish presidents across the state," Grimmer said.
The Parish President believes the district court has set a bad precedent that he does not want to see established permanently in state law.
In her ruling, Waguespack sided with Attorney Julie Baxter, acting on behalf of the two engineering firms, who argued that the Home Rule Charter makes no provision for the Parish President to refuse to obey a resolution from the Council. Baxter said that the Home Rule Charter only gives the Parish President the authority to sign contracts, not to administer them. Harry "Skip" Phillips Jr., representing the Parish President, said that a resolution does not have the force of law and that the Parish President does have a role in administering contracts.
Phillips argued the case is a contract dispute "disguised" as a mandamus, which can only be used to compel someone to perform a legal duty when there can be no dispute.

I'm looking into a way that we can help raise funds to help Mr. Grimmer with legal expenses for this appeal. As soon as I have more information I will post it here.
Randy Rushing Will Soon Have The Power to Limit Public Speaking and Remove People From the Council Chambers (Published September 18, 2011 By Earl Price)
The parish council will introduce an ordinance to limit public speaking at the council meeting this Thursday night. I have requested a copy of the proposed ordinance from the council office. I've been told that the new ordinance will give the speaker power to remove anyone that he wants to from the building. If you want to speak you will have to sign up before the meeting starts and you will be limited to only three minutes. If you are not there before the meeting starts so you can sign in you will not be allowed to speak. There will be no applauding from the audience or you will be removed. This ordinance will give Randy Rushing the power to remove you from the meeting at his connivance. It did not bother Randy Rushing when candidate for parish president Layton Ricks stood up in the audience and screamed at a lady who questioned Ms. Fairburns motives concerning her public address of the council. I t never bothered Randy Rushing when Arborist Wendell Anthony runs from the front to the back ranted and raving and attacking Mr. Grimmer. If this ordinance is passed the voice of the public will be silenced.
LADOTD is Seeking Bids for Eden Church Road (Published September 15, 2011 By Earl Price)


Eden Church Road reconstruction will soon become a reality. After more than a two year battle between Councilwoman Cindy Wale and the council majority, Eden Church Road is out for bids. The LA DOTD will accept bids on October 12, 2011 for the reconstruction work. This work will provide a new safer alignment in the area of the dangerous curve. I followed this battle and I have admired Cindy Wale's persistence and determination to see this project through.
I remember a particular council meeting that Don Wheat pushed to kill this project. After the meeting I asked him why it was that he was so dead set against the project. He said that he had his reasons and that he was working with local State Senators and State Reps to try and move the safety grant money to another project. He said that he would never support the project and he was very angry about it. A couple of weeks later a group of DOTD engineers and consultants and State Senator Dale Erdey showed up and informed the council that the money could not be moved and if the council didn't move forward they could lose the money. It was that night March 25, 2010 that the majority of the council finally agreed to approve the project.
The constituents in Cindy Wale's district should be proud of her and I hope that they show their appreciation next month on October 22 at the poles and re-elect her for another four years



Randy Rushing and Thomas Watson Interviewed With WAFB and Questioned Road Fund Expenditures (Published August 23, 2011 By Earl Price)



Last night Randy Rushing and Thomas Watson were on Channel 9 informing the public that they feel that the road tax money is being misused. To me this was nothing new. I've known for many years that the road tax money was being wasted in this parish. In the interview last night Randy said that he wanted to bring someone in to perform an audit and tell him what needs to be done. Well Randy you should have thought about this when you were busy paving driveways with our tax dollars. Randy why did we spend so much on roads in your district such as Jase Sandlin road, Wood Duck road, Ranahan road and Nova road? Randy, maybe you should tell the public how and why Jase Sandlin road was built with our tax dollars. Why did we spend $57,000 to construct this road? It's my opinion that Randy Rushing is one of many of the councilmen that are responsible for the misuse of hundreds of thousands of dollars even millions of our road tax dollars. Randy has said in previous council meetings that everyone has the right to have their drives paved because they pay road tax every time they buy groceries. My belief is that each taxpaying citizen benefits from the road tax when they leave your driveway and travel on legitimate roads. There are only a few on the council who refuse to wastefully spend our tax dollars on private driveways or so called roads that should have never been accepted into our maintenance system. Marshal Harris, Buddy Mincey and Cindy Wale are the only three councilmen who have taken a stand on this issue.
Mr. Watson doesn't have any room to talk. He placed parking lots and other drives on the road list that should have not been on there. He used our road fund money to pave drives and parking lots for the Walker Police Department and the Town of Walker. He also visited the local Fire Departments and asked them if they wanted their drives paved and they told him no and that they had their own monies. They knew that it wasn't right for this to use road tax funds for their parking lots when they have their own millages to pay for such. After the parking lot and drive work was completed you found out that the parish could not spend money on Parking lots so you said that you would just pay for it out of the general fund. I have nothing against letting the police or fire departments piggy back on our contract and take advantage of our low contract pricing if they are paying for it. They have their own budgets funded by taxes or millages to pay for their needed work. Mr. Watson was later informed that the work would have to be paid out of the general fund and it would require intergovernmental agreements with the other entities. Mr. Watson have you secured theses agreements yet?


At the end of Mr. Watson's term the parish will have spent approximately $80,000.00 on just his health insurance. This is based on roughly $20,000.00 per year for councilmen with family's. If this is incorrect please contact me. I know that Mr. Watson is not the only councilman receiving insurance but he was the one on TV telling the public that he wanted to save money and cut cost. Do you feel that a part time position such as councilmen warrants this kind of expenditure? I personally do not feel that it does. In the Home Rule Charter it states that the parish president shall be compensated and shall be eligible for health insurance. It states that a councilman shall be compensated and does NOT mention health insurance. Maybe we need a Home Rule Charter audit to see if we are in compliance. Mr. Randy Rushing and Cindy Wale have never accepted the health insurance.


Mr. Watson should have taken the opportunity while on camera to clear up his issue concerning Commerce Lane which goes to his private business. He should have shown them his letter to the editor that the council clerk attach to the agendas at the last meeting that placed commerce lane as number FOUR in the parish as needing repair. If our engineer placed that road as the fourth worse road in the parish we need new engineers. I would also like to know if it was just coincidental that on October 14th at the council meeting Mr. Watson got up and left the room just before Jimmie McCoy made the motion to place Commerce Lane and two other roads on the priority list. Was there a reason that he did not want to be in the room to vote on this? I don't have any objections to a councilmen's road being paved if it meets the requirements. Walking out before a vote concerning the road and not defending himself the first time a citizens questions him about the road concerns me.
I agree that the coffee expenditure of fifteen thousand dollars in four years is extreme if it. Maybe Watson and Rushing should have brought it up at the council meetings if they truly wanted to only solve the problem. But that was not what the interview was truly about.


I totally agree that we need to look at which expenditures are out of line and let's work to get them under control. This parish has a forty million dollar debt to pay for the roads paved five years ago. We all know that many of the roads should not have been paved. We should learn from this that we should only pay as we go and not bond tax dollars to hurry the process.
Parish Council Will Hold A Special Meeting Tonight to Discuss Contract With C-Dell. (Published July 27. 2011, By Earl Price)

The council has once again scheduled a special meeting at a time that most hard working people can't attend. The meeting will be held this evening at five o'clock at the council chambers in Livingston. Why couldn't this wait until tomorrow night at the regular scheduled meeting that is held at a more convienent time for everyone to attend? Is it because they don't want people attending? We need a council that will stop using these tactics to try and escape public scrutity. We need a council that will agree to hold all meetings at six o'clock in the evening or later. We need a council that will abolish all committees and instead discuss all business at the regular scheduled meetings. These committee meetings have become a way to keep other councilmen from having any input on major items of business. We need to also set a penalty for councilmen turning their microphones off during the meetings. Jimmie McCoy has repeateldy turned his microphone off during the meetings. He does not want his comments being recorded. These microphones are tied into the recording device that records the meetings so that they have a record of what was said.


Parish Council Selects Revised Re-Districting Map (Published July 18, By Earl Price)


This evening the Parish Council held a special meeting to select and approve a revised council district map. At first it appeared that they were going to make one last effort to amend the revised plan 3A to appease a few councilmen. They were advised by attorney Bob Morgan that any changes made would have to result in a plan that created districts as equal to or better than those in plan 3A. This was a victory for the people of this parish not the council. Why did the council with the exception of Cindy Wale, Buddy Mincey and Marshal Harris select a previous plan that they knew could be challenged? I'll tell you why. They thought that no one would be paying attention and that they could get away with it. We commend Buddy, Cindy and Marshal for trying to pass a previous version that offered that was similar to the one selected tonight.
Now that the council has selected a plan that everyone agrees with, everyone should know what district they are in. Anyone who wants to run for councilmen can now start knocking doors.



Federal Lawsuit Forces Parish Council to Revise Re-Districting Map.(Published July 02, 2011 By Earl Price)

The Council has revised Plan 3 to allow the population in all districts to be within five percent of each other. The council said that there may be minor changes to this plan at the next council meeting.

To view maps click on links below.

Plan 3A Overall Plan 3A District 1
Plan 3a District 2 Plan 3A District 3
Plan 3A District 4 Plan 3A District 5
Plan 3A District 6 Plan 3A District 7
Plan 3A District 8 Plan 3A District 9



Audio of the Drainage Board Meeting Where Jimmie McCoy and Don Wheat Recommended Using IED to Clean Canals. (Published June 05, 2011 By Earl Price)

Folks you need to take the time and listen to this audio in its entirety. There is more at the end of the recording. In this audio tape you will clearly hear Jimmie McCoy telling the board members that they need to participate with the parish and hire IED to clean canals in their districts. He also states that if IED removes debris that is not determined eligible that the contractor will not be paid. However the contract that was given to them to sign by their attorney states that the Drainage Districts will be responsible for all ineligible debris removal. Why would their attorney allow them to sign such a contract? Once I post the audio it will be worth listing to. You will clearly hear two councilmen argue with board members and pressure them into participating. You will clearly recognize their voices and the board members who argued back with them. You will hear one board member who is well respected in this community argue with the two councilmen because he realized what was going on. The two councilmen raised their voices at him at tried to play him off as a crazy old man. I'll try to have this audio posted in the next couple days.


Click Here For Drainage Board Audio




FEMA Shoots Down First Appeal of Waterway Debris Removal and Monitoring (Published May 25, 2011 by Earl Price)


FEMA officials have turned down the first appeal for waterway debris clean up and debris monitoring. Folks you need to read this letter from FEMA. This letter will clear up so much for those of you who have not been fully aware of why the Parish President stopped the the cleanup and refused to take the "Quick Pay". It tells how the parish was told to wait for NRCS to determine which canals were eligible but the parish did not want to wait. It mentions that FEMA offered assistance in eligibility determination but a "Council Member" declined FEMA assistance. This is such an embarrassment to this parish. Please take time to read this denial letter. I believe that this letter will offer a clear perspective of what really happen and how it went wrong.

FEMA Denial Letter For Canal Cleanup and Monitoring

I'm working on getting audio tapes of Gravity Drainage District meetings that will shock you. In this audio tape you will clearly hear Jimmie McCoy telling the board members that they need to participate with the parish and hire IED to clean canals in their districts. He also states that if IED removes debris that is not determined eligible that the contractor will not be paid. However the contract that was given to them to sign by their attorney states that the Drainage Districts will be responsible for all ineligible debris removal. Why would their attorney allow them to sign such a contract? Once I post the audio it will be worth listing to. You will clearly hear two councilmen argue with board members and pressure them into participating. You will clearly recognize their voices and the board members who argued back with them. You will hear one board member who is well respected in this community argue with the two councilmen because he realized what was going on. The two councilmen raised their voices at him at tried to play him off as a crazy old man. I'll try to have this audio posted in the next couple days.




Special Council Meeting The Night Before The Storm (Published April 24, 2011 by Earl Price)


August 31, 2008 a special meeting was held to authorize Mike Grimmer to sign contracts with IED to clean roadways after the storm. Jimmie McCoy said that he had talked with several companies that day pertaining to debris removal. The council recommended IED over the other contractors. This contract stated that the contractor is to procure all permits, licenses and certificates or any such approvals or plans or specifications as may be required by federal, state and local laws, ordinances, rules and regulations for proper execution and completion of the work.

If the council knew that they needed to authorize Mike Grimmer to sign contracts the night before a major hurricane then why did Jimmie McCoy feel that he needed to sign addendum three adding the canal work nearly three months after the storm? The links to the audio and minutes are below.

Special Meeting August 31, 2011 audio

Special Meeting August 31, 2011 minutes



Public Records Request Reveals Plenty Of Information For Citizens To View And Hear (Published April 22, 2011 By Earl Price)

The people of this parish need access to documents and audio clips of meetings concerning the debris clean up. All of the items below are public records and were obtained by a public records request. Take a little time and listen to the audio clips and read the documents. I will be posting additional documents as they become available.

Debris Kick Off Meeting Part 1
Debris Kick Off Meeting Part 2
Debris Kick Off Meeting Part 3
Debris Kick Off Meeting Part 4
Debris Kick Off Meeting Part 5

IED Contract Service Agreement
IED Addendum 1 and 2
IED Contract Extension

IED Lawsuit
Exhibit 1 Exhibit 2 Exhibit 3 Exhibit 4 Exhibit 5 Exhibit 6 Exhibit 7 Exhibit 8 Exhibit 9 Exhibit 10
Exhibit 11 Exhibit 12 Exhibit 13 Exhibit 14 Exhibit 15 Exhibit 16 Exhibit 17a Exhibit 17b Exhibit 17c
Exhibit 18 Exhibit 19





Council Selects Plan Three Re-Apportionment Plan. (Published April 16, 2011 By Earl Price)

The Council voted to select Re-Apportionment Plan Three Thursday evening. Many people in audience question why one councilmen would have three thousand more constituents than other councilmen. Ronald Sharps district would have a sixteen to seventeen percent divination. Several councilmen argued that the plan should consider geographic area and not just population. Others argued that it's not fair to the voters of the Parish. What happen to one man one vote. How can we be all be equally represented if we are not equally divided amoung the districts. The people of the parish will only get one chance to voice their opinion on this issue at the May 12th council meeting.



Three Meetings Scheduled For Tomorrow Night (Published April 13, 2011 By Earl Price)

The first meeting tomorrow evening will be the Re-Apportionment Committee meeting at 4:00 pm. The committee will review four possible options and select one to send to the council.If you are thinking about running for for councilman you may want to attend the meeting.

The second meeting will be a Finance Committee meeting at 5:00 pm. The committee will discuss the capital outlay road program. They will also discuss milliage recommendations.

The third meeting will be the regular scheduled council meeting. The council will vote to introduce the re-apportionment plan of THEIR choice. Another agenda item that may interesting to some is the Isabela Lakes Community Development District.



Council Will Hold A Special Meeting Tonight Concering The Debris Issue. (Published April 8, 2011 By Earl Price)

A special meeting will be held tonight to discuss a letter that may be sent to Fema Officials on behalf of the Parish President and the council. A public records request for this letter was made this morning and two letters were made available per the request. The first letter is a letter that the council and Parish President received from IED. The council held a special meeting last night and the first letter received from IED was discussed in Excutives session with District Attorney Scott Perilloux present. Parish President Mike Grimmer has concerns with the verbiage in the letter and would like to see changes made. The second letter is a edited copy of the letter that shows his recommended changes.

Origional Letter Received From IED

Letter With Parish President Mike Grimmers Recommended Changes


What Is Going On With The Consultant Hired To Redraw Council Districts? (Published by Earl Price March 28, 2011)

It sure seems like some of the councilmen may be using the consultant to draw new districts that potentially eliminate people who they know may run against them. The council has held only one committee meeting and the consultant presented only one draft of a plan. Ronald Sharp was clearly upset and asked for changes to his proposed new district. After that meeting three more were scheduled and cancelled. Just last week the meeting was canceled because the consultant had computer problems and couldn't print the new maps. The consultant had abandoned the first draft and created two new maps but could not print them. We have received copies of the two maps and we want you to view them and decide for yourself if something fishy is going on. Pay attention to the one that moves Marshall Harris all the way south to Buddy Ellis road and all the way east to Walker So Rd. This would put Marshall Having the City of Denham Springs and a portion of the City of Walker city limits. This evening we received a new map referred to as Plan 3. This map appears to help McCoy by moving two potential opponents to another district. I also have a link to the population data for Plan 3. This data itself is good enough reason to toss Plan 3. The consultants have maxed out the population in areas that are rapidly growing and minimum population in rural areas that are not expected to grow as fast. This will result in the over populated districts not having equal representation in a few years or even now. Look at your proposed districts and keep visiting this website for more updates.

Plan 1
Plan 2
Plan 3
Plan 4

The following are enlarged district maps with streets shown.

Plan 1 District 1 Plan 2 District 1
Plan 1 District 2 Plan 2 District 2
Plan 1 District 3 Plan 2 District 3
Plan 1 District 3 and 4 Plan 2 District 3 and 4
Plan 1 District 4 Plan 2 District 4
Plan 1 District 5 Plan 2 District 5
Plan 1 District 6 Plan 2 District 6
Plan 1 District 7 Plan 2 District 7
Plan 1 District 8 Plan 2 District 8
Plan 1 District 9 Plan 2 District 9

Plan 3 Data
Plan 2 Data

2011 Road Engineering Sham (Published March 28, 2011 by Scott Jones)
I encourage everyone to take some time and look at the council video dated 3/10/2011, specifically at the 1 hour 8 minute mark to the 1 hour 22 minute mark. Alvin Fairburn & Associates requests to be paid $560,000.00 for engineering of a road list.


Mr. Buddy Mincey request several times to see proof where the council voted to begin a road program to no avail. At the 1 hour 9 minute mark, Mr. McCoy openly says there was no road program. At the 1 hour 10 minute mark Mr. Aydelle from Alvin Fairburn and Associates says the council authorized them to do a road program based on the capital outlay list (Wish List). At the 1hr 13 minute mark, Mrs. Mary, the parish clerk, says she is sure there was an authorization but she will have to look into it in the minutes. Mr. Aydelle then reads a blurb from the August meeting previously mentioned (LPR NO 10-279 and LPR 10-280). After reading these I can see no such authorization to begin a road program yet Alvin Fairburn &Associates decided to do some engineering on this anyway.
After requesting several documents from the council office over a two week period and continually being referred to a motion made in Dec. 2008 to enter into a contract with AF&A to do future road programs I spoke with Mr. Blaine Honeycutt, the parish attorney. He told me there was no motion made nor adopted to begin a road program.I believe after reading the contract between Alvin Fairburn & Associates that they in no way followed the contract. Not only did the council majority, who voted to pay the invoice with full knowledge they never authorized a road program, vote 7-2 to pay they did so under protest. I urge you to go look at the video and read the document listed below.

Agendas and Meeting Minutes Concerning the Road Program
AFA Contract And Noted Violations



Master Planning Kick Off Meeting (Published March 15, 2011 by Earl Price)

Last night was the bad start for the Parish Master Plan.It appears that the majority of the council who was against the contractor selected have placed people on the committee who will make it a point to sabotage the Master Plan. Attend one of the steering committee meetings and you will see which ones are doing this. It's ashame that we have this opportunity to plan for our parish's future yet some people would rather see us fail.


Two Different Ballgames Said Jimmie McCoy (Published March 12, 2011 by Earl Price)


In public meeting November 25, 2008 Jimmie McCoy was made aware of the need for U.S. Army Corps of Engineers to be involved with the canal cleaning. Eddie Aydell with Alvin Fairburn and Associates asked, "Suppose we get in a situation where we do some debris removal and the corps takes position that we should have had permitted the work?". Jimmie McCoy said "Two different ball games. When you let them people in, we will all flood Eddie"
When environmental consultant David Templet explained the need for the corps permits, Jimmie responded that "We're not doing that."
It was IED's responsibility to acquire all permits. Jeff Bonnura with BBEC (monitoring firm hired by the parish) sent a letter to Mike Grimmer stating that there are more than just corps permits to be acquired and BBEC had provided IED with a list of the needed permits.
I hope that everyone reading this is as upset as I am. Why would Jimmie McCoy in a room full of monitors, consultants, government employees and the contractor say that we are not going to do something that is required by law? Who gave him that right? You can't convince me that he did this for the good of the parish.
Jimmie's remarks still do not relieve IED from requiring the corps permits. Just because he said that we weren't going to involve the corps does not change IED's contract. A verbal directive is only good as the paper it's written on. Their contract was never amended to reflect such a change. IED should be responsible for all of the after the fact permits and mitigation and Jimmie needs to be hand cuffed and put away.and put away.

To hear the taped recording of Jimmie making these remarks click here



No Wake Zones (Published March 10, 2011 by Earl Price)

Tonight the council seemed prepared to force an extended no wake zone to 3000 ft on boaters of this parish. Citizens of the parish that opposed the extension filled the councils chamber and took turns speaking. I personally do not support the wake zone. I'm a boat owner with a camp on Blind River and I think that there are too many unnecessary no wake zones already. The parish has criteria in place for no wake zones. The area in question tonight did not meet the criteria. The council voted to defer this item until the next meeting. Jimmy McCoy and Thomas Watson voted against deferring and wanted the item to be voted on tonight. I don't know why Jimmie McCoy tried so hard to get this no wake zone passed tonight. He seemed upset that it was devered and his support of the no wake zone was obvious. The council needs to follow their own ordinance regardless of who is asking them to bend the rules. Councilmen from Watson and Walker don't need to be forcing no wake zones on boaters in another district.



First Look At Proposed New Districts (Published by Earl Price March 06, 2011)

Tonight the council seemed prepared to force an extended no wake zone to 3000 ft on boaters of this parish. Citizens of the parish that opposed the extension filled the councils chamber and took turns speaking. I personally do not support the wake zone. I'm a boat owner with a camp on Blind River and I think that there are too many unnecessary no wake zones already. The parish has criteria in place for no wake zones. The area in question tonight did not meet the criteria. The council voted to defer this item until the next meeting. Jimmy McCoy and Thomas Watson voted against deferring and wanted the item to be voted on tonight. I don't know why Jimmie McCoy tried so hard to get this no wake zone passed tonight. He seemed upset that it was devered and his support of the no wake zone was obvious. The council needs to follow their own ordinance regardless of who is asking them to bend the rules. Councilmen from Watson and Walker don't need to be forcing no wake zones on boaters in another district.Tonight the council seemed prepared to force an extended no wake zone to 3000 ft on boaters of this parish. Citizens of the parish that opposed the extension filled the councils chamber and took turns speaking. I personally do not support the wake zone. I'm a boat owner with a camp on Blind River and I think that there are too many unnecessary no wake zones already. The parish has criteria in place for no wake zones. The area in question tonight did not meet the criteria. The council voted to defer this item until the next meeting. Jimmy McCoy and Thomas Watson voted against deferring and wanted the item to be voted on tonight. I don't know why Jimmie McCoy tried so hard to get this no wake zone passed tonight. He seemed upset that it was devered and his support of the no wake zone was obvious. The council needs to follow their own ordinance regardless of who is asking them to bend the rules. Councilmen from Watson and Walker don't need to be forcing no wake zones on boaters in another district.
Preliminary new revised district lines have been drawn and presented to the council. The contractor hired to re-district the parish so that each district is population equal presented the council with proposed maps and data last Thursday evening. The only councilmen who were present were Buddy Mincey, Marshal Harris, Randy Rushing and Ronald Sharp. Sharp was the only councilmen who wasn't satisfied with the proposed map. The contractor will meet with the councilmen again next Thursday at 4:00 before the council meeting. The following links are links to documents distributed at last Thursdays meeting.

Existing District Map
Proposed District Map
Proposed Enlarged Map
2000 and 2010 District Data

Proposed District Data

Why Were You HIding Jimmie McCoy? (Published February 25, 2011 By Earl Price)



Jimmie McCoy wasn't anywhere to be found when the airport consultant item came up on the agenda. Just before the item came up he tucked his head and left the room. Two weeks ago while Mr. Grimmer was out of town he unsuccessfully tried to award the project to Davies Engineering. After researching this company I discovered that the owner of Davies Engineering paid the property taxes on a piece of property that may still be co owned by McCoy and Davie Roberts two sons. With this information now public he didn't have any other choice but to tell the rest of the boys to vote for the Parish President's recommended company while he hid in the back to avoid any questions. He was obviously afraid that someone may ask about the other company that he tried to select at the last meeting. In the Advocate this morning it is only mentioned that Jimmie McCoy wasn't present for the vote. They failed to tell you how he left just before the vote and came back right after.

As I watched him walk back in to the room I couldn't help but think about the people in his district that will be in a new district come election time due to the redistricting. These people have waited for the opportunity to vote him out and now they will be robbed of that opportunity.

Wasted Tax Dollars For a Audit of The Audit (Published February 25, 2011 By Earl Price)
The council has wasted your tax dollars again. Last night the council received a summary of findings concerning the "Special Road Audit" and it wasn't what they wanted to hear. The road fund audit was introduced by Randy Rushing and strongly supported by Jimmie McCoy and others. The audit wasn't anything more than a witch hunt to try and place a black eye on the administration. At a cost of twelve thousand dollars the council received information from the auditor that wasn't any different that what Parish President Mike Grimmer, Marshal Harris and Cindy Wale had said to the council August 13, 2010. (Click here to read the advocate interview.) I saw the disappointment in their eyes when their own hired gun stated that all road money that has been spent was permissible. Then the auditor went own to tell us how poor our parish is compared to ascension parish and that we need to find additional incomes to support our infrastructure.

Why did this auditor fail to report that millions were spent on private driveways? Maybe he was coached on what to not say.
He did touch on the expense of health insurance. He said that the insurance coverage that we provide our employees without any match is unheard of in any of the government agencies that he deals with. Councilmen justify the expense by saying that the hourly rate paid to parish workers is below average. I agree with the auditor and the council. We need to get our wages up to a competitive average and adjust the insurance to the same as other agencies. We also need to look at insurance coverage for councilmen. Should the council provide full coverage insurance for each councilman and their entire family? I believe the cost is sixteen thousand dollars per councilman per year. Cindy Wale and Randy Rushing are the only two who do not accept the insurance. When election time comes around ask your candidate if they plan on accepting the insurance. In the past couple of years the insurance coverage went from three hundred thousand dollars to 1.2 million dollars.


Jimmie McCoy Up to His tricks Again (Published February 12, 2011) By Earl Price

At Thursday night's meeting Parish President Mike Grimmer's Chief of Staff, Brandon Ellzey, said that the administration had only received two applicants and recommended LGC Poole, LLC to perform the airport feasibility study.

Jimmie McCoy said that three companies responded to the Council Procurement Committee. The Council Procurement Committee was created by Don Wheat to give the council the power to select which companies contract with the parish. I don't understand why they needed the committee, Jimmie McCoy already believes that he can sign any contract and he has the council attorney agreeing with him.

McCoy wanted to award to a firm that only responded to the council and not the administration. McCoy wanted to hire Davies Engineering. Could there be a connection between McCoy and Davies Engineering? I'm not a detective but with the help of Google I discovered that a local company, Excel USA, recently acquired Davies Engineering. Who is Excel USA? Excel USA is a group of companies owned by Dave Roberts. You may not recognize the name Dave Roberts but you may recall recent news about his son Brad Roberts. Brad Roberts and Josh McCoy appear to be the owners of the piece of property at the corner of Glenn Ellis and Walker So Rd where they have been trying to build an apartment complex. This is the development that recently received alot of attention because it will provide government assisted living. The owners sent a forged letter of support from Parish Grimmer and the Council stating that parish welcomed this development in their grant application. Brad Roberts and Josh McCoy are business partners. I have also discovered that the property taxes for this property were paid by Dave Roberts. Maybe Jimmie wanted to award the contract to Davies Engineering since the owner paid the property taxes on property that his son may have ownership in.

Now it all seems to come together for me, Last year a piece of property went up for adjudicated sale through the parish. The parish followed procedure and there were only two bidders at the public auction. The successful bidder was a company owned by Scott Jones. Jimmie McCoy led the way to block the sale and now the property is tied up in litigation with the Parish and Scott Jones. Chase Muller who is the agent for Brad and Josh has been recently acquiring information on this property. It appears that Jimmie blocked the sale because his son and Roberts want to purchase the property. Another way to help the Roberts for paying his son's taxes.

This confirms to myself that anytime Jimmie McCoy recommends anything you better believe there is a ulterior motive. It's my opinion that Jimmie McCoy is in this to better him and his family at the expense of the tax payers.

Click here to view the act of sale showing Brad Roberts and Josh McCoy as owners.

Click here to view news article that Bradley stated that he and McCoy owned the property.

Click here to view property tax statement

Click here to view Excel news release concerning purchase of Davie Engineering

Click here to view Secretary Of State document with Roberts and McCoy as officers


Recent Comments on the Comment Page (Published February 6, 2011 By Earl Price)

I would like to remind everyone about the comment page we have on this website. The comment page is a place where you can comment on any thing you want. The have been a lot of comments recently by someone who calls themselves J T. I would like to reply to the comments made by Mr. J T.


JT thanks for joining in with your comments. You think that my website will publish only the bad things that the council does and the good that Grimmer does. Well JT please tell me some of the good things that the council has done recently and the bad things that Mr. Grimmer has done. The tone and content of your comments tends to make me feel that you must have this information. If you have such information then my all means send it to me so I can confirm and publish it. The only problem is that you want everyone to think that you have such information but you do not.
You made the comment that I should include all of the parish wide elected officials on my website. I wish I had the time to do that because there are a lot of elected officials out there that are doing a good job and need to be recognized for it. Please know that I do get tired of publishing what only seems to be bad news. I look forward to when the day comes that we have a united council made up of individuals that are committed to putting the parish before themselves. I get so tired of attending meetings that are run by a majority that consist of arrogant bullies and a couple who have never bought anything to the table and can only agree with the bullies.
You commented that I am a friend of Mr. Grimmer and that he controls this website. You are so off base and you know it. I did not get involved to make friends are to take sides. Mr. Grimmer and this council work for me and the people of this parish. I treat them the same as I do workers in my company. If they do something good they are appreciated and rewarded if they do something wrong they are called out and reprimanded. I do consider Mr. Grimmer a friend and I can tell you that he has never asked me to publish anything. Our conversations are usually no more that hello and a handshake.
JT if you have information that is different from what I have on this website, please send it to me. Better yet post it here and sign your full name. I took a big step when I went public with this being my website. If you really want to be part of the solution post your full name and stand behind your words.
Council Prepares to Change New Road Ordinance (Published January 15, 2011 By Earl Price)
The Road Initiative Ordinance that citizens of this parish used to force change and put a stop to the paving of driveways with our road tax money. The council is preparing the groundwork to try and discredit the new changes and have them repealed. It all started at the December meetings when the asked for an opinion from their attorney Blaine Honeycutt if the changes applied to road overlays. Mr. Honeycutt stated that he always said that the ordinance was poorly written. How can this attorney make such a statement now? Why didn't he comment on the clarity of this ordinance when we presented it? I thought back to the time when Scott Jones and I met with Blaine's boss Scott Perriloux and discussed the old ordinance and he agreed that the council was taken roads in without meeting the proper requirements. The council had amended the old ordinance and added one sentence that basically stated that if a road had two addresses it could be taken it to the maintenance system and disregarded all other requirements. Mr. Perriloux agreed that the existing ordinance was confusing and ambiguous but agreed that the council was improperly accepting roads. He addressed the council at the next meeting and told them to follow the entire ordinance. I spoke to Blaine afterward and he agreed that the existing requirements need to be changed but he knew that the councilmen would not do it on their own. At that moment I knew that it would take an initiative petition to force the changes on the council. Now Mr. Honeycutt wants to say that the new ordinance is poorly written. Well Mr. Honeycutt at least it put an end to the buying of votes by paving driveways.
Now Don Wheat wants to try another attempt to repeal the ordinance. Don Wheat requested a list of subdivisions that have been approved since the ordinance became law. Don Wheat is on a witch hunt to discredit Scott Jones and myself. This year is an election year and he thinks that Scott Jones or I will run against him. I can't confirm that either of us or anyone else will run for office but I will not sit still and let him try to discredit the road ordinance or anyone who signed the petition. I agree that minor changes need to be made to the ordinance pertaining to the length of roads in a true subdivision. I would agree to waive the length requirement for connector roads in a subdivision if it truly connects one road to another. But Don Wheat is pushing for a full repeal of the ordinance. This repeal is needed before the next road overlay contract that will be going out for bids in the next couple of months. This will allow the council to modify the priority list and add driveways before this year,s election. Councilmen have always used our road tax to help gain support for their elections.


Roads Suffer From The Rising Cost of Health Insurance (Published January 09, 2010 By Earl Price)

The parish will spend a total cost of $2,355,568 for 138 employees' health insurance this year. The council voted to approve a $273,248 increase in cost. This year the parish council will be paying three times more per each employee than the city of Denham Springs and twice as much as the town of Walker.

This is what happens when the councilmen are in charge of soliciting insurance quotes and selecting an insurance company. We have personnel working in administration that are more qualified to select insurance companies than the councilmen. Currently the councilmen's insurance committee contacts insurance companies, review quotes and recommend to the council which company to accept. As long as the council is in charge of insurance we will never get the most for our money.

Why does the parish pay so much of an employee's health insurance? The majority of businesses do not pay all of an employee and the employee's family. The parish should only pay the full amount of the employee or half of the employee and the employees family. The same applies to the councilmen. The council needs to let the HR personnel in administration take over all health insurance business. Our roads can't afford to have our councilmen in charge of health insurance.




Chance Parent Begins to Campaign for Parish Councilman District 1(Published January 03, 2011 by Earl Price)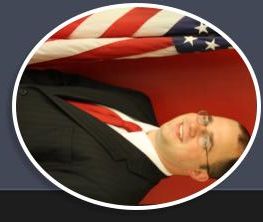 "My roots have been established for a long time and I want to represent the people and give them a government that they can trust again."
Chance Parent will be running for Livingston Parish Council, District 1 in the 2011 election. This decision was a thoughtful process for Chance, he feels that he is at a point in life where his knowledge and skills can benefit the people of our parish in many ways. More importantly, he would love your input on topics that you feel need to be addressed in Livingston parish. He feels that being elected to public office is a privilege and the purpose of being elected is to listen to the public and make decisions based on what is best for our parish.
Chance is asking for you support as begins his campaign for Parish Council. Please visit his website www.chanceforachange.org and support him in his endeavor to become the next councilman for district 1
Council Elects Randy Rushing as Chairman (Published January 03, 2011 by Earl Price)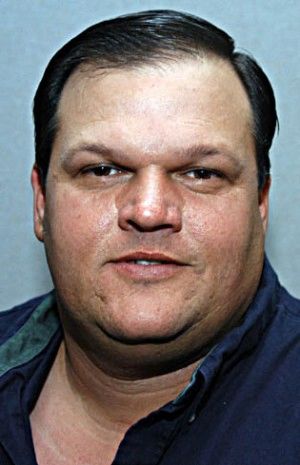 Randy Rushing is the elected Council Chairman for 2011.I guess there wasn't anyone else who wanted this target on their back going into an election year. I wonder if it was strategic planning by others that Randy was nominated. Randy has always made it clear that everyone deserves to have their driveway paved and two days after he was elected as Chairman several call and comments were in the paper about him paving driveways. Could it be possible that other councilman called in the comments as part of the plan to shift the heat to Randy? Regardless he is the chairman for the next ten months and we will need to keep an eye on him.
Juban Crossing Moves Forward With Council Approval Of Sales Tax (Published December 21, 2010 by Earl Price)


Even a last minute mass email filled with false information didn't stop the approval of the sales tax for Juban Crossing. Proponents for the development answered all questions that the council asked. The members of the council were satisfied with what they answers they were given by the developer.
Many supporters spoke in favor of the project as the council listened. The vote was 7-2 with Ronnie Sharp and Eddie Wagner voting against. Voting for the sales tax were Randy Rushing, Cindy Wale, Buddy Mincey, Marshall Harris, Don Wheat, Thomas Watson and Jimmie McCoy
Yesterday before the meeting a mass email was sent out to Livingston Parish residents stating that if the sales tax did not generate enough revenue the parish would have to pay the difference. Councilman Jimmie McCoy asked bond attorney Jim Ryan If the parish would be liable for any dept if the project failed. Ryan answered absolutely, unequivocally no, the Livingston Parish tax payers will never be liable for the debt on this property.
Parish President Mike grimmer addressed the council and clarified several items. He wanted everyone to know that the state has not put up any money for any roads or infrastructure inside the development. He made it clear that the state has put up one million dollars to do a study for the widening of Juban to the project and the extension of Cook road to the project. Mr. grimmer told the audience that this development will lower property taxes. As Juban Crossing comes on the books as assessed property on every building, property taxes on property owners in that taxing district will be reduced as much as fifty to sixty percent. The sales taxes collected on Juban Crossing will double the rate of collections for the Parish which will pay off all bond indebtedness that the Parish presently has.
I think everyone attending the meeting agreed that they want the chance to spend their tax dollars in Livingston Parish. Our schools, police and roads have suffered long enough by us losing retail tax dollars to surrounding parishes. Nothing against the other parishes' shopping centers but we just want the option to shop here.
Thanks to all of the councilmen who voted for this project. I would also like to thank Mr. Stephen Keller for not giving up on Livingston Parish and for fighting five long years for this project.
Juban Crossing - Economics Vs. Egos (Published December 17, 2010 by Earl Price)

With Juban Crossing so close to being a reality, some politicians would rather see to it that it does not happen. In past several weeks there have been a rally among politicians to possibly put the brakes on a development that would generate hundreds of millions per year for Livingston Parish. If this development is stopped at the council meeting next week, we need to do our homework and find out who is behind this rally. In the past couple of weeks we have heard rumors of late night meetings and countless phone calls by politicians trying to gather support for them to kill the project. Councilman Don Wheat has already gone on record that he is against the proposed tax. Everyone needs to attend the council meeting Monday night December 20, 2010 at 6:00 pm and watch your councilmen and see if they try to convince everyone that this project would be bad for the parish. Thomas Watson told me that one the issues that he has is that the developer will not own the parking lots and that there will not be any property taxes collected on the parking lots. I believe that that is what Bass Pro did also. While you are at the meeting, ask your council leaders where they bought their shirts or the suits that they wear. Chances are they did not buy them anywhere within Livingston Parish.

Currently the tax rate for the economic district is 9.5%. The developer is requesting to raise the tax rate to 10.5% for this district. This tax rate will only apply to purchases made inside this development. You could drive to Baton Rouge and save a percent on your purchases. However, by doing this you would only save a dollar for every hundred dollars that you spend. After you pay for the additional gas to drive to the Mall of Louisiana you probably didn't save anything. Instead, your tax money was spent to help fund schools and highway projects in Baton Rouge.

A problem that has always plagued Livingston Parish is that we are a bedroom community. We work and shop in Baton Rouge and other surrounding parishes. This development will be the biggest step to ending the Baton Rouge retail dependency that we have. It's time that our tax dollars spent on retail are spent on our roads and our schools. How many tax dollars have Livingston Parish tax payers contributed to the Baton Rouge roads and schools by shopping in Baton Rouge.

Once again, I ask that you attend the council meeting. This development's future will depend on this critical tax vote Monday night. This tax would not be forced upon anyone. Instead, it would only apply to the economic taxing district confined to the development. You would be able to choose weather or not you shop at this center.

If the economy was the way it was four years ago, the developer could possibly find other ways to finance the infrastructure. The cost would be passed on to tenants and then to the consumers and you would pay the same as you would with the tax option. With the economy like it is now, financing is difficult for retail developers. Lenders require nearly seventy-five percent of the stores to be leased and the amount of money put down has tripled. The proposed sales tax that applies only to this development is the only possible way.

My company along with a retail developer and have built shopping centers all along the I-12 corridor. The most recent was the reconstruction of the Hammond Mall. The city of Hammond built the entire infrastructure and it has certainly paid off. The shopping center at I-10 and Louisiana Avenue in Lafayette has an additional tax on the development that paid for the entire infrastructure. Covington and Slidell are doing the same thing with developments in their area.

I think that everyone needs to know what the latest design looks like. With store owners now signing Letters of Intent, the architects have begun to finalize the layout of the buildings. I have two drawings that you need to see.

1. Drawing showing the construction phases

2. Overall Drawing


After reviewing these drawings, it is with my greatest hope that you along with all the citizens of Livingston Parish realize what is at stake when it comes to the Juban Crossing Shopping Center. All I ask is that you attend the meeting and voice any concerns that you may have and then let your councilman know that you if support it or not. I know that there are still some unanswered questions concerning the financing structure and I hope that they are answered at this meeting.




Council Moves Forward With Master Plan and Pulled the Road Initiative Ordinance Amending From the Agenda at Thursday Night's Meeting (Published December 12, 2010 by Earl Price)

I went to the council meeting Thursday night expecting the worse. I thought that the council was ready to re-advertise for an engineer to develop our Parish Master Plan. Instead they decided to move forward and award the contract to the Engineering Firm that scored the highest. I'm not sure why the council changed there minds but I appreciate them for doing so. I wish that Jimmie McCoy and Don Wheat would have joined the others instead of making the remarks that they did. I want to thank Buddy Mincey and Thomas Watson for introducing the motion so it could be voted on.

I was also expecting Ronnie Sharp to try and appeal the Road Initiative Ordinance that put a end to paving private driveways. Ronnie sharp cowdarly left the room before the item came up on the agenda. Don Wheat said that Ronnie had asked him to pull it off the agenda. I don't know what he wanted to change but another councilman said that Ronnie had called him and discussed appealing the ordinance. I want to thank everyone who showed up at the meeting. Your presence at that meeting is what made Ronnie remove that item.
Ronnie Sharp Prepares To Amend The Road Initiative Ordinance (Published December 05, 2010 By Earl Price)

Ronnie Sharp has placed an item on the agenda for Thursday night's council meeting to amend the Road Initiative Ordinance. What changes will he propose? If you are one of the ten thousand people who signed and supported the Road Initiative Ordinance you may want to attend this meeting. I don't know if Ronnie is doing this on his on which I doubt or did other councilmen request him to do so. I personally believe that several of the other councilmen asked him to put this on the agenda. I believe that other councilmen convinced Ronnie that he is not at risk of losing his council seat next year so he would put it on the agenda. I hope that the citizens in his district let him know that they do not want to go back to paving private driveways with our tax dollars.

Thomas Watson Has Placed The Comprehensive Master Plan On The Agenda For Thursday Night's Meeting (Published December 05, 2010 By Earl Price)

Thomas Watson has placed an item on the agenda for Thursday nights meeting that addresses the Comprehensive Plan. Will Thomas do the right thing and recomend awarding the contract to low bidder or will he try to help Jimmie find a way to award the contract to local engineering firm Alvin Fairburn and Associates. We need to pay close attention to Thomas Watson Thursday Night. Thomas will either do whats right and recomend awarding to the low bidder or he will show his loyalty to Jimmie McCoy and risk losing the grant money.


Debris Debacle Update(Published November 29, 2010)

Easterly told the Parish Council Monday that the second roadside debris appeal has been sent to the Federal Emergency Management Agency's Washington, D.C. office.
For more on this story click here
The Council Insurance Committee Will Meet Tomorrow, November 30, 2010 At 3:30 pm (Published November 29, 2010)
The Insurance Committee will meet Tuesday, November 30, 2010 at 3:30 p.m. Click here to read the agenda.
Special Announcement from the Geaux Wider Communications Team for DOTD:
The Range Avenue ramp meter on-ramp to westbound I-12 is scheduled to be activated Monday, Nov. 22 from 6 a.m. to 10 a.m.
Range Avenue has a three-lane on-ramp to I-12, meaning three ramp meter signals will alternately pause vehicles prior to allowing access to the interstate.
When approaching the ramp meter signals, drivers should fill both lanes and pull to the stop bars. The meters will stop vehicles for no more than 4 seconds before allowing one car at a time to progress forward. This ramp meter will only operate during the morning commute hours. If the meters are not on, drivers can proceed through the on-ramp without stopping at the meters.
All ramp meters are remotely monitored and under the control of DOTD's Traffic Management Center. So, for example, if the on-ramps begin to back up, the meters can be turned off for a short period of time to allow vehicles to clear out.
Other ramp meters that have been activated are at Walker/LA 447 Road, Juban Lane, O'Neal Lane, Essen Lane, Airline Highway, Sherwood Forest Blvd. and Millerville Road. Following Range, eastbound ramp meters are scheduled for activation in December at Sherwood Forest, Airline Highway and Jefferson Highway.
To date, observations by DOTD staff and consultant engineers indicate that average interstate speeds in the corridor have increased by as much as 10 mph, there is less stop and go on the interstates and few minor crashes have been reported.
Darrel W. Cole
Geaux Wider Communications Team for DOTD
O: 225-906-1443
C: 225-223-8233
http://www.linkedin.com/in/transportationpr
Juban Crossing is About to Break Ground (Published November 15,2010 By Earl Price)
The Juban Crossing owners have requested that a two percent sales tax be imposed on the Juban Crossing District to pay for the needed infrastructure. This will bring the total tax percentage for purchases in the district to the same as the Bass Pro district. This tax request was introduced at the last council meeting. The tax proposal did not go without opposition. Council Chair Don Wheat said that he wanted to go on record that he will not vote to approve the tax. A citizen attending the addressed the council and said that people are already taxed enough and he didn't feel that he should have to pay an additional tax if he shops at the stores in this development. This tax will come up for vote either at next week's meeting or the first council meeting in December. If you are in support of or not you need to attend this meeting.
A lot of us have started to doubt whether or not this development would ever happen. I can tell you that this project is really about to happen. My company has worked on almost of all of the large retail centers on I-12 and I have dealings with most of the retailers that are looking at this site. Several of the tenants for phase one have letter of intents between them and the owners and have already went to committee. I've been told that phase one will open in March of 2012

It's Time For The Councilmen To Step Up And Do What is Best For The Parish (Published November 10, 2010 By Earl Price)
Two weeks ago Jimmie McCoy led the way to try and sabotage the opportunity for this parish to have a Master Plan. He tried to change rules for selecting the firm because he wanted the local firm Alvin Fairburn and Associates to be awarded the contract. At the Bid Procurement Committee meeting he tried to re score the applicants in a way that would have moved Fairburn to the top of the score card. When he wasn't able to do so he went to plan "B". Buddy Mincey made the motion to award to the third place firm. Now the parish has been notified that they can award to third bidder but they won't be able to use the grant money to pay for it.
Now the parish may lose this grant all because of Jimmie McCoy. I hope that this council will try to salvage the grant and award to the firm with the highest score. Mr. Buddy you need to lead the way and make this happen. If you don't it will be your motion that caused the parish to lose a grant that would have been the first step in this parish having a master plan. I hope Councilman Thomas Watson and the others work with you and move this parish forward. Mr. Buddy the citizens of this parish want to see this on the agenda for the next meeting.
You need to make a motion to rescind the motion to award to the third place bidder and make another motion to award to the company with the highest score.
Thomas Watson once said that the council needed help improving their image. Here is a chance for the council to improve their image on their own.
Council Meetings Rescheduled for the Month of November (Published November 08, 2010 by Earl Price)

With the regular scheduled meeting dates for November both being on holidays the council has rescheduled both meetings to be held on November 8th and November 22nd.




DOTD Starts the Process to Widen Walker South Road (Published November 2, 2010 by Earl Price)

Last night the Louisiana Department of Transportation presented the public with conceptual drawings of possible routes and configuration for the widening of Walker South Road. Representatives from Shread-Kuyrkendall & Associates and Urban Systems gave a presentation of general information and then answered questions from the public. These meetings allows you to have input on the design. If you have any concerns or questions it's important that you fill out a comment sheet and submit it. If you weren't able to attend last nights meeting click here to view Agenda, Flow Charts, and comment sheet. If you have comments please submit them before November 8, 2010. To see possible routes click on the links below.

Buddy Ellis Road to Miller Road (La 447 South of I-12)
Pendarvis Lane to Walmart/ Winn Dixie Drive (La447 North of I-12)
Modified Diamond Interchange
Partial Cloverleaf Interchange
Directional Diamond Interchange
Parish Council Rolls The Dice With Grant Money For Comprehensive Master Plan (Published October 25, 2010 By Earl Price)



Tonight the council decided to gamble with the funding for a Comprehensive Master Plan. After several hours of scoring each consultant and watching the presentations, Councilman Buddy Mincey made the motion to ignore the scores and award to the consultant who's score placed third among the four consultants. Before the vote Mr. Gene Baker with Neighbors in Action addressed the council and read the rules for procurement that pertain to this grant. The rules clearly state that the contract must be awarded to the consultant with the highest score. I personally think that the councils attorney should have advised the council differently than the way he did but I also feel that he advises them the way that they want him to anyway. Mr. Buddy Mincey you are my friend but tonight you let me and your parish down. We may possibly lose this grant money because you let McCoy and others get to you. I'm not mentioning the names of the consultants because that is not relevant to what you did. You had a score card with four consultants scores and you were suppose to award to the highest score regardless of who it was or where they were from. You lost the trust of the people in this parish tonight and if we lose the grant money you will have lost it for good. You let McCoy get to you and I didn't think that you would do that. McCoy is serving his very last term and hasn't realized that his own big supporters are searching for his replacement as we speak. You know very well that McCoy is only concerned with what benefits him and not the people of this parish. If I sound irritated it's because I am. We did not need to sit in the council chambers from four o'clock to eight o'clock just so you could do the boys dirty work. You let them make you the fall guy for them. As you take the heat for this they are laughing behind your back. You also let down two councilmen who have always supported you. Even though they voted along with the rest of the council they probably had no other choice or it would have seemed like they were against the master plan. Shame on you Buddy Mincey. This is the second time this year that you have done this. The first was when McCoy and his gang used your vote to override the Parish President's veto concerning this same Bid Procurement Committee.

If you attended the meeting tonight you most have been as shocked as I was with the attorney Blaine Honeycutt comments about changing the scores. He actually told the council members that if they didn't agree with the scores that they could go back and change them. What does this say to other companies bidding future work in this parish? Why would a company want to bid work when the council can manipulate scores so they can choose the winning company? These comments tonight will cause irreparable damage to our parish for years to come. These comments present the image that this council can be bought. We need a new attorney appointed to the council.


Where was Thomas Watson tonight? Was he trying to stay away and not make a stand? Is it possible that he knew that the boys had the votes and he didn't want take a side and possibly hurt his chances for re-election or a possible election to a higher office? Last week the Parish President was criticized by Thomas for not being at the committee meeting. The Parish President didn't need to be at that meeting he had four people on the committee that he appointed and the council had four which included Thomas. Thomas as important as this meeting was tonight you should have been there. Is it possible that your committee knew that one of the questions would result in a stalemate and a vote would be needed to by all members and your absence was needed for the outcome to be what it was. I hope what ever reason it is that you missed the meeting it was a good one. You not being at this meeting tonight is the same as you being there voting for the company who did not have the highest score.


Videos of both of tonight's meeting will be posted on this site in a couple of days.


ACLU Urges Livingston Parish to Allow Trick or Treating on Sunday October 31 (Published Saturday October 23, 2010 BY Earl Price)
The ACLU has sent a letter to the Parish Council Urging them to allow Trick or Treating on Sunday October 31, and not change the date to Saturday or Monday. You can view the entire story that was posted by WAFB by clicking HERE

Jimmie McCoy Now Says That His Committee Will Select a Contractor Before The Public Meeting next Monday Night. (Published October 22, 2010 By Earl Price)

In last night's meeting Jimmie McCoy changed the agenda for this coming Monday night special call meeting. On October 14th Jimmie McCoy said lets get all of the companies here at the special call meeting so we can hear from them. When reminded of that statement by Taryn Creekbaum he told here that she was wrong that he did not say that. I would like to invite everyone to view the video and hear it for themselves. Jimmie McCoy was rude and disrespectful to Ms. Taryn and I commend here for speaking up to Mr. McCoy.
Why are we having a special call meeting if the council plans on awarding it to someone before the meeting? I guess his he knows that there will not be many people attending a 4:00 meeting and he will not have to look as many people in the eye while he tries to award to a engineer of his choice. I'm not saying that I support one over the other but i would like to hear from all of them before the council decides.
Mr Watson made the statement that if the council would have been part of the Request for Proposal we may not be in the predicament we are in now. Well let me remind everyone about the RFP Mr. Watson took upon himself to write for a multi disciplined company to take over most of the council's duties. One were he purposely tried to humiliate our Parish President. Click here to read his RFP.
I hope that the council waits until after the special call meeting to select an engineer. If possible we need everyone to attend the 4pm meeting also Monday evening.


The Council Will Have A Public Meeting Tomorrow Night Concerning the Master Plan (Published October 17, 2010 By Earl Price)
In hopes of awarding the contract for a "Master Plan" to a local engineer the council will hold a Procurement Committee meeting tomorrow night. Council members have made it clear that they want to award the master plan contract to local engineering firm Alvin Fairburn and associates according to the Livingston Parish Newspaper. Council members would like to always award to local companies over out of parish companies. I would think that AFA would not expect the parish to only hire companies in the parish since they work all over the state. How would AFA feel if other municipalities only wanted to hire engineers in their parish.
I personally feel that the company that the parish contracts with should be from out of state. My reason is that if the selected firm has family and friend connections in this parish they will be influenced by the same friend and family when creating this plan. We all know one thing for sure is that a master plan will have some sort of zoning recommendations in it. Councilmen may also try and use their influence on the zoning areas in a way that would benefit them. What if a councilman has a particular large track of land that they want zoned a certain way to possibly benefit him or a family member. The councilman will most likely be able to get a local engineer to suggest zoning so that it benefits the councilman. After all, local engineers have to go before the council quiet often and they would not want any councilmen upset with them. The easiest way to prevent this is hire a contractor without any ties to our parish who has helped create master plans for parishes/counties with a comparable populace as our here in Livingston Parish.
Come out tomorrow night and watch as the Bid procurement committee tries to figure a way to manipulate the grant procurement requirements.
Report Card Time (Published October 14, 2010 By Earl Price)

Election for the Livingston Parish Councilmen is only a year away and we want to know how you think they are doing. We have created a report card for you to grade them. You will be allowed to grade one or all nine but you can only vote once. Please take the time and grade them. We will periodically post the results for you and them to see. Click Here to grade the councilmen.
Council Meeting This Coming Thursday Night and the Comprehensive Master Plan is on the Agenda (Published October 11, 2010 By Earl Price)
We need as many people as possible to attend Thursday night's meeting. The comprehensive master Plan is on the agenda and the council will try and bypass your Parish President's recommendation so they can steer this grant money to a company that will benefit them and not the parish as a whole. Please come join us if possible.
Website Comments Have Been Updated (Published October 11, 2010 By Earl Price)
I recently realized that comments submitted over the past few weeks were not posting. I've corrected the problem and they are now posted. Please take a moment and visit the comment and read the latest comments.
Councilwoman Cindy Wale Has Started Raising Funds For Her Re-Election To The Livingston Parish Council. (Published October 08, 2008 By Earl Price)

Take this opportunity to come out and meet Councilwoman Cindy Wale and ask her any questions that you may have. Below is a invitation with the time and location. I support Cindy and hope that you will also. Cindy has worked to better this parish and we need to help her to get re-elected so she can continue to serve the citizens of Livingston Parish and and make this parish a better place to live.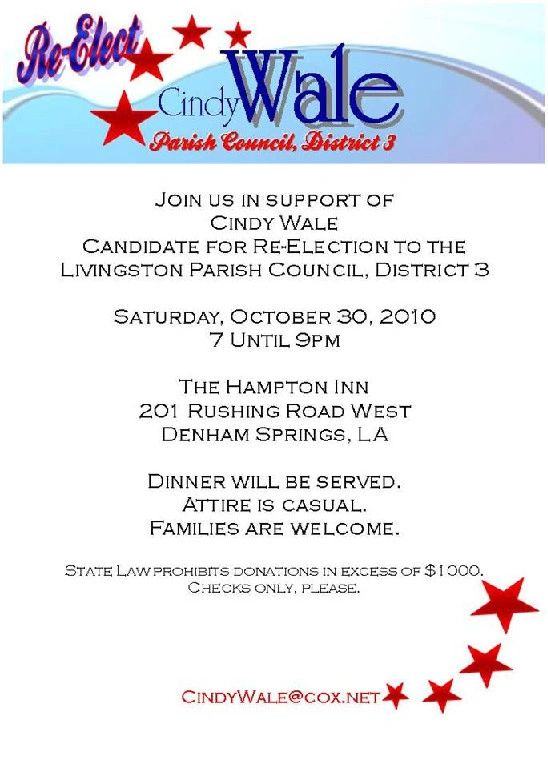 Only Three Elected Public Officials Turned Out For The CHILP Public Corruption Meeting Tonight (Published October 05, 2010 by Earl Price)
Parish Councilman Buddy Mincey, Walker Alderman Jack Summerell and Marshal Jerry Denton were the only public officials to attend the "Public Corruption" meeting at this months Citizens for Highway and Infrastructure in Livingston Parish meeting. I was disappointed to not see any other public officials. It was heartwarming to see all of the citizens of this parish attend the meeting and ask questions. FBI Special Agent Fee repeatedly told the audience that the FBI needs citizens to help them expose the officials that engage in public corruption. Special Agent Fee said that the FBI has brought in additional agents to work in his division. If you have any information that would help FBI agents investigate any wrong doings in office by our elected officials please contact the FBI at 225-291-5159.
Members of the audience had plenty of questions but didn't get the answer they wanted. Special Agent Fee was asked if there were any ongoing investigations of any public officials in Livingston Parish. He answered the question by saying that he can't comment on any ongoing investigations.
I would like to thank Buddy Mincey, Jack Summerell and Jerry Denton for attending tonight's meeting.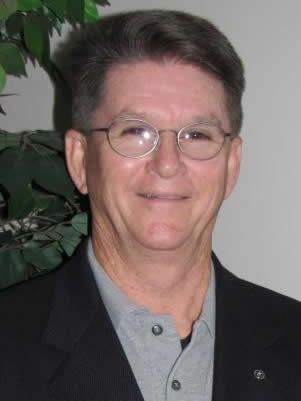 For more coverage about last night's meeting visit http://www.nbc33tv.com/livingston-parish/livingston-parish-residents-say-they're-worried-about-corruption


Public Corruption (Published September 30, 2010 by Earl Price)
I want to invite everyone to attend the Citizens for Highway and Infrastructure in Livingston Parish meeting Tuesday evening October 5th, at 6:30pm at the library on Eden Road and Florida Blvd. We will have FBI special agent Greg Fee speaking about public corruption. He will also answer question from the public. I encourage the citizens of Livingston Parish and all elected officials to attend this meeting. Our Parish Councilmen in particular should attend this meeting and ask Special Agent Fee if it's a crime to submit false information on grant application.

Council Website Update (Published September 24, 2010 by Earl Price)

I agree that the council needs a website that we citizens can go to for information. I don't agree that they necessarily need their own site at a cost of $34,000 for the first year. The council needs to utilize the website already available to them. http://www.livingstonparishla.gov When Council Clerk Mary Kislter was asked if the council took bids she responded that they are not required to advertise for bids for professional services. Click here to read the letter from Mary Kistler.

The website company that the council wants to use will charge two thousand dollars per month to for content management and support. Click here to read the proposal from Vizado.

I want whatever site that they end up with to publish this type of information. All invoices and proposals should be posted for us to view.

Read the letter look at the proposal and decide if you thank it is wise use of your tax dollars. I personally feel that they should be incorporated into the existing Livingston Parish Government website. I feel that the council should have at least request pricing to do such and considered that option.



Concerned Citizens Demand Accountability.
(Published September 23, 2010 by Earl Price)
On July 09, 2009 District Attorney Scott Perriloux ordered parish councilmen to start obeying both parish and state road laws. The District Attorney reminded councilmen that he "wears two hats."
Perriloux is the Council's official legal adviser, but he also files charges against elected officials who break the law.
Perriloux said there was a "fine line" between his client/attorney relationship with the Council and his duties as a prosecutor
October 08, 2008 The Scott Jones/Earl Price petition to force a change in parish road policies was returned to the Parish Council with 899 more signatures than needed.
Chief Deputy Registrar of Voters Jared Andrews delivered the petition to the council, unmarked, in its original two banker's boxes with a letter certifying the number of valid signatures.
The petition needed signatures of 10 percent of the parish's registered voters, about 7,350. Andrews certified 8,249 valid signatures.
Tonight, September 23, 2010 over 150 citizens filled the council chambers and demanded reform within the council. Citizens stood in line to speak to the councilmen and to try and figure out how the council could vote for something without knowing what they're voting for.
There isn't any doubt that our councilmen now know that the people have had enough and they will be watching.
I must say that it felt good to see so many people at tonight's meeting. I just hope that the people of this parish will continue to stay involved. The people that attended tonight's meeting didn't see the normal behavior of most of the council. Tonight the people's presence forced several of the councilmen to actually behave and properly conduct business.
It was also a wake up call for the councilmen to start considering some type of land use or zoning. I have always been an opponent of zoning but tonight I conceded that we do need some sort of zoning. I hope that the council creates a steering committee with citizens, not politicians, from all areas of the parish.
We have an opportunity to accelerate the planning with a grant that will pay for the development of a master plan. The parish has already received proposals from several firms and they have been reviewed and a firm from Colorado has been selected. Several members on the council have made it clear that they want a local firm out of Denham Springs to have the contract. My concern is that this firm possibly donates to these councilmen and they will be influenced by the same councilmen. This same firm has friends and family throughout the parish that would also have an influence of the firm I believe that we need a firm that has experience and a proven track record. Regardless it is in their hands now. They know that the people are ready to get involved.
Council Website Will Cost Livingston Parish Tax Payers Approximately $30,000.00 For The First Year.(Published September 22, 2010 By Earl Price)

The council will soon have their own website independent of the Parish Government site. They will pay approximate $30,000 dollars of our tax dollars just to have their own website. The parish Council has contracted with Vizado out of Denham Springs to build this own website.
Livingston Parish Government already has a site that that the council could be a part of. Why do they want a seprate website? Did the council take bids on this website? Was Vizado the low bidder? We will request a copy of this website proposal on this site and publish it soon.


Fema Will Not Pay the $19 Million Dollar Appeal


The Following Article Was in the Baton Rouge Advocate September 16, 2010 ·
Written by: BOB ANDERSON ·
Advocate Florida parishes bureau ·
Published: Sep 16, 2010

The Federal Emergency Management Agency has denied a $19 million appeal by Livingston Parish for Hurricane Gustav cleanup costs.
The parish continues to wrangle with FEMA over approximately $50 million more in cleanup costs, officials said Wednesday.
The latest action by FEMA did find that the parish owes only 5 percent of the federal cost share for the cleanup, not the 10 percent FEMA had shown in an earlier filing.
FEMA found that the documentation provided by the parish supported eligibility for only 34 percent of the work submitted by the parish for removing hazardous trees and only 16 percent of the work submitted by the parish for removal of hanging limbs.
"This appeal review finds that FEMA field staff performed a thorough assessment of the applicant's claim utilizing all documentation available and site visits to validate eligible work for reimbursement," says a letter from Tony Russell, administrator of FEMA Region VI.
Contacted about the denial, Parish President Mike Grimmer said the situation was why he shut down the cleanup after finding that questionable work had been done and why he refused to deposit an initial check from FEMA for more than $42 million.
If the parish had accepted and disbursed that money, the parish would now be liable for paying the federal agency back for all of the ineligible costs, Grimmer said.
Because the parish didn't accept the check, the parish owes the contractor only the amount that is reimbursed by FEMA plus the parish's 5 percent match, he said.
International Equipment Distributors Inc., the firm the Parish Council hired to conduct the cleanup, maintains that the parish owes the full cost of the cleanup, saying that the parish authorized the work.
Subcontractors have complained that they are still waiting for much of the money they are owed by IE
For more information click here
Cindy Wale Leads the Way to Rescind the Resolution Concerning the Hud Development In Watson. (Published September 14, 2010 by Earl Price)
Cindy Wale has informed me that she is on the agenda for the next council meeting and she will make a motion to rescind the resolution that the council passed in August pertaining to the HUD Development in Watson. I believe that it will pass unanimously by the council.
Cindy was misled like the rest of us when Jimmie McCoy introduced this item back in August. We were all led to believe that it was a DOT grant for infrastructure.
This is the reason that we as citizens of this parish need to keep up to date with everything that is going on with our council. I don't want to take anything away from all of the people who showed up at the meeting in Watson last night but we need to be involved from the beginning. We don't need to wait until its too late before we complain. We need to read the minutes and agendas of theses meetings. If we see something on the agenda with our councilman's name next to it pick up the phone and call the council office and demand answers. The councilmen and their staff work for you. It is your tax dollars that pay their salaries. Go a step further and attend at least one meeting a year.
If you belong to a citizens group have someone from your group attend the meetings. If your group has hundreds of members the councilmen will take notice.
Update On The Parish Council's Attempt To Shut Down This Site
(Published September 14, 2010 Reference WAFB Story)

http://www.wafb.com/Global/story.asp?S=13154429
LIVINGSTON PARISH, LA (WAFB) - A Livingston Parish man says he is just trying to keep the public informed about what the parish council is doing, but some council members worry he may be misrepresenting a government website.
Councilman Thomas Watson says the issue first came up when they hired a company to build a website for the parish council. He says the company worried this other website might be misleading. However, the man who owns the site in question says he is just trying to hold the council accountable.
For the last year and a half, Earl Price has operated the website Livingstonparishcouncil.info.
"We were up to around 2000 visitors a month and it'll go down to 1500," Price said.
Price says his site started as a way to notify Livingston citizens about the council's decisions to pave private roads. Now, he says it is for citizens to keep a closer eye on the council.
"We attend every council meeting…try to give a brief description of what took place at council meetings. If we see something on the agenda that the public should be aware of we put that on there," said Price.
Last week Price says the council indicated it has been keeping an eye on his website.
A video was taken at last week's meeting where the council said it's in the process of creating its own site, and believes Price's will cause confusion. In the video from the meeting you can hear someone say, "My vote is to issue a cease and desist on it."
However at the same meeting another council member worried asking Price to shut down the site would violate his first amendment rights. The council has asked the Livingston District Attorney to look into any federal laws that would keep Price from having the website.
"I have the right. The domain shouldn't have been available if I didn't have the right to have it," said Price.
Price says he has made specific changes to the site so visitors understand the site does not speak for the council. He also says he changed the name of his page from LivingstonParishCouncilInformation to InformationAboutYourLivingstonParishCouncil.
The council meets again Thursday September 23rd.
By Tyana Williams
Copyright 2010 WAFB. All rights reserved.
http://livingstonparishnews.com/news/article_902bc2a6-c340-11df-82e4-001cc4c03286.html?login_success=tru
e
http://www.wafb.com/Global/story.asp?S=13154429
http://www.2theadvocate.com/news/102598084.html
http://www.topix.com/city/livingston-la/2010/09/da-says-livingston-cant-stop-website
http://www.nbc33tv.com/livingston-parish-council/livingston-parish-council-wants-to-shut-down-watchdog-website


http://lincolnparishnewsonline.wordpress.com/2010/09/10/welcome-to-livingston-parish-council-info/



http://centrallapolitics.blogspot.com/search?q=livingston+parish
Neighbors in Action Met Tonight At Live Oak Middle School to Bring Awareness to The citizens of the Parish about a HUD Development Planned For the Watson Area.
(Published September 13, 2010 by Earl Price)
Tonight was a history making moment in Livingston Parish. Over one thousand people showed up to protest a Hud development in Watson. The people were upset because they were not allowed input earlier on before Jimmie McCoy submitted a pre-application to the grant program on the behalf of the parish. These citizens felt as if this development was shoved down their throats.
I asked Thomas Watson Why He seconded the motion when it came before the council. He stated that he thought that it was strictly an infrastructure grant and that he was misled. I personally feel that these councilmen discuss their items on the agenda with each other before the meetings and the councilman who seconds the motion is usually fully aware of what it is. Thomas assures me that he was misled and he will ask McCoy to rescind the resolution at the next meeting. He also stated that if McCoy doesn't put it on the agenda that he will put it on the agenda himself.
I want to thank Parish President Mike Grimmer for providing the meeting tonight. He is truly a leader that this parish needs. He showed tonight that he is willing to stand up for the citizens of this parish. I think Jimmie McCoy should have also attended tonight's meeting. He claimed that he had already planned a visit to Branson Mo. and couldn't be here tonight. If I were a councilman and a meeting as important as this one was scheduled I would change my personal plans and attend this meeting especially if I were the one who applied for this grant behind the backs of the people in my district.

For more information visit www.neighborsnaction.com
Council Tried to Shut Down This Website at Tonight's Council Meeting
(Published September 09, 2010 by Earl Price)
Councilman Jimmie McCoy came to the meeting with his guns cocked in hopes of killing this website. It was obvious that the awareness this site has brought to the citizens of this parish concerning the council has upset Mr. McCoy. He was heard saying toward District Attorney Scott Perriloux "I want the site shut down now. Burn his computer. Shut him down completely". The council never addressed the audience to ask if the owner of the website in question would like to speak. Instead he was ready to stomp his foot on my right to free speech. Until today I have never made my identity public. After the meeting came to a close I addressed news reporters for the Advocate and Livingston Parish News and told them that it was my web site. I also approached the District Attorney, Scott Perriloux, and told him that I was the owner of the website in question. He stated that he wasn't too sure that government agencies have trademark rights. He also mentioned that the parish council did not have the authority to shut my site down. He mentioned that it would most likely take a lawsuit in federal court to settle the issue. I hope that this puts an end to this matter.
I imagine that they want this site shut down before they start the overlay program this year. The council knows that we will be posting pictures of the roads on the list. This year will be no different than the past couple of years. Randy Rushing has three roads on the list that some would consider driveways. This is why they do not want this web site.
Although I feel that I have never tried to impersonate the Livingston Parish Council I have added a disclaimer to each page. I may eventually move them to the bottom of the page. I have worked many hours building this site so the public could be up to date with what goes on in the council. I'm not going to bow down to Jimmie McCoy and shut down this web site. Although I built the site it belongs to the citizens of this parish.
I have also purchased a new domain that will inform the public of actions of all the politicians in the parish. the site is www.livingstonparishpolitics.com
In case you don't know my identity by now my name is Earl Price and I promise to keep you informed to the actions of this council.
It Appears That The Council Will Try And Shut Down This Website At Tomorrow Nights Council Meeting. (Published September 08, 2010)

On tomorrow night's agenda item 20 (a) states that "Misrepresentation of Governmental website cease and desist"

If this website is the one referenced on the agenda we offer the following comment.

We have never made claim that this is a governmental website and never will. We only want to bring attention to the actions of the council. The thousands of visitors we get each month confirm that people are interested in what is going on in the council. Mr. Scott Perriloux will you sit aside and let your Mr. Honeycutt use false claims to shut down this site?


It May be Possible that Eddie Wagner Helped Family Members Make Money On Burn Site Rental.
(Published August 21, 2010)
Eddie Wagner knew that the parish was about to lease burn sites after Hurricane Gustav. He was also aware that the parish would not be able to contract with councilmen or their immediate family. We believe that he informed his son Eddie Joe Wagner who owned 126 acres and they came up with a plan to sell the property Troy Wagner. Although they are related to Troy Wagner he is not considered an immediate family member. Two days after the sale they had Jimmie McCoy sign a lease to rent the property for $1,000.00 per acre per month. So much is wrong with lease agreement. We believe that Councilmen Jimmie McCoy and Eddie Wagner purposely came up with a plan that would benefit the Eddie Wagner family. To top the deal Jimmie McCoy signed the lease agreement. Jimmie did not have any business signing contracts. I doubt he understood any of the language in the contract but even more he is not authorized to sign contract. .
The people of this parish need to be reminded that most of our councilmen are corrupt. The parish needs to stand up and vote Don Wheat, Thomas Watson,Jimmie McCoy and Eddie Wagner out of office. You may want to vote out Randy Rushing and Ronnie Sharp since all they want to do is pave driveways and support the other corrupt councilmen.
Thomas Watson Leads The Way To Award Contract To His Local Supporters.
(Published July 1, 2010)
Thomas chaired the Bid/Procurement Committee meeting today and he didn't waste any time before he started laying the groundwork to award a contract to a local supporter. He said that he felt like the council was excluded from the selection process and he wants to have more say so in the selection. He was disappointed that the Parish President did not consult with him. This reminded me of when he advertised for a Multi Disciplined Consultant without consulting the parish president. He would have probably made the motion to accept the fraudulent proposal if the public had not discovered that it was a fraudulent. He said that the council would not have time to re advertise for proposals. He said that the council would have to make a motion to throw out the bid criteria and vote for the one that feel is the best company for the parish. One of the reason that he wants to hire a local company who doesn't have any experience in master planning is that the parish would not have to pay the expense to fly a out of state company to meetings. Thomas has spoken with only one person in Ascension Parish and now he is an expert. If he wants to consult with Ascension Parish he needs to address the entire Ascension Parish Council not just one person. The one person that he contacted may be an equivalent of our Jimmie McCoy. Thomas needs to leave it along and accept the company who had the best score.


Another item discussed today was the hiring of an independent auditor to audit the one cent tax money for roads and the jail. I hope that Mr. Randy Rushing will ask the auditor to look into the spending road money to build Jase Sandlin road in his district. This road was built out of gravel first by the parish and then it was paved by the parish. Click here to view the pictures. In theses pictures you will also see that Demco installed power poles and then moved each of them over about fifteen feet. I'm sure that Mr. Rushings employer Demco charged the developer for this work.
Jimmie Moves Forward With His Way Or No Way At All
(Published June 30, 2010)

The council has scheduled a Procurement/ Bid Committee meeting for tomorrow at 3:30 in the early afternoon. The early time is in hope that most people will not be able to attend the meeting. If you want to see how the good ole boy politics work you need to attend this meeting. You will most likely leave the meeting thinking that this is how councilman takes care of the people that help them get elected.
The committee will discuss how they can ignore the low scoring and award a five hundred thousand dollar contract to their favorite supporter. Jimmie will try to lead the way for this to happen and ignore the Parish President and guide lines set by the grant provider. This man, Jimmie McCoy, believes that he is above the law and he can do what ever he wants to. He feels that as long as he has his two partners in crime and his other three yes men then he is king.

Please keep this fresh in your mind when you go vote next year.



It's Jimmie's Way Or No Way At All
(Published June 25, 2010)

Once again Jimmie McCoy would rather loose a five hundred thousand dollar grant if it doesn't benefit his supporters. Last night the parish council rejected parish Presidents Mike Grimmer's recommendation of out of state firm to draft a comprehensive master plan for the parish.
This grant has time sensitive requirements and if the council doesn't use it soon it they will possibly loose the funds.
The parish advertised for consultants and only three firms replied. Each firm had to meet federal agency requirements and then they were given points based on experience and qualifications. The firm with the highest score was Winston and Associates, a Boulder, Colorado, firm.
Jimmie McCoy said, "I don't see why we have to hire a company from Boulder, Colorado, to come to Livingston Parish and do this planning, when we have several firms from an area within forty miles of where we sit who could do this job." Jimmie McCoy went on to suggest to the council that should award the planning contract to Alvin Fairburn & Associates of Livingston Parish.
What is the connection with several councilmen and Alvin Fairburn and Associates? These same councilmen always want to give work to this firm. These same councilmen have opposed the reconstruction of Eden Church road but they didn't hesitate to authorize Alvin Fairburn to perform the design and authorize payment of one hundred thousand dollars. Recently they decided that it would benefit their image if they supported the Juban Road extension. Once again they authorized Alvin Fairburn and Associates to begin surveys and preliminary work. All of this work is just given to this firm without public bid. What is the connection with this firm, Jimmie McCoy, Thomas Watson and Don Wheat? This firm is currently working for the new owners of Woodland Gardens which documents filed with the Livingston Parish Clerk of Courts office show that Jimmie's son, son in law and Thomas Watson has a vested interest in the project.
We have nothing against companies in this parish doing work for the parish as long as long as they are qualified and the low bidder. Something needs to change and we believe that the only change that will move Livingston Parish forward is replacing at least five of the councilmen in 2011.
Most of who Know Thomas Watson have heard him say over and over again that Mike Grimmer took all of the stainless steel kitchen shelves and electric fryers from the old jail to his fishing camp. Thomas has said that he would have liked to have had those items at his camp. Well Thomas now you can buy these items at auction. Thomas, click here to view the items that will be sold at the auction.
(Published June 22, 2010)



Records Filed With The Livingston Parish Clerk Of Court Prove That Josh McCoy Will Benefit From The Sale Of Each Lot In Woodland Gardens
(Published June 14, 2010)

It is a Ethics violation for a councilman to vote for something that a direct member of his family will financially benefit from.Click Here to view documents that proves Josh McCoy can buy and sell land or borrow money for Woodland Gardens .




The Thomas Watson Track Of Land On Buddy Ellis Road That He Sold To Jimmie McCoy's Daughter In Law's Brother Is On The Agenda For The June 10th Council Meeting. The New Owner Will Build 12 Lots on 1.76 Acres. This Is Nothing More Than Jimmie McCoy Helping Thomas Watson. Jimmie McCoy and Thomas Watson Should Not Be Allowed To vote on this Thursday Evening. It Is This Sort Of Shady Dealings That Has Given The Council Such A Bad Image. (Published June 6, 2010)


Thomas Watson Land Sale Update
(Published May 30, 2010)

View the sale documents here




The guy on the right is Beaux Bailey. His sister is married to Jimmie McCoy's son.

Thomas Watson sells a track of land to a developer with ties to Jimmie McCoy
(Published May 26, 2010)

Thomas Watson has sold the 1.76 acre lot off of Buddy Ellis Road to Beaux Bailey of Woodland Gardens Investment, LLC on May 18, 2010. Mr. Bailey intends to sub divide this track of land into 12 lots. The transaction did not involve any money. We have been told that Mr. Watson will paid in installments, being due upon the sale of each lot.We were also informed by residents living near this lot that Mr Bailey has ties to Jimmie McCoy. This track of land is the same track of land that led to Thomas Watson's ethics investigation.

This 1.76 acre track of land is located in Ashley Heights Subdivision. In the restrictive Covenants for Ashley Heights, First Filing, it states " No lot shall be used except for residential purposes. No building shall erected, altered, placed or permitted to remain on any lot other than one detached single family dwelling, and no more than two(2) mobile homes which must be squirted at the bottom."

If you wish to contest this development, your protest can be heard at the planning and zoning Commission Meeting, Wednesday June 2, 2010 at 5:30 p.m. It is located in the Livingston Parish Health Unit Conference Room 24. The phone number 225-686-3062

You can also contact Mr. Rusty Payne if you need more information at 225-665-3926

We have also been told that Mr Watson had items on the Agendas in April that were for Mr. Bailey but he pulled the items when they came up. We will investigate this further and update this site if we find anything new.

The Parish Council Has Cancelled The Code Review Meeting For This Evening.
(Published May 11, 2010)

The Parish Council has cancelled the Code Review meeting that had been scheduled for today. When they reschedule the meeting we will publish the date and time.




Parish Council Meeting Agenda Has Been Posted
(Published May 8, 2010)

Parish Council will hold their regular meeting next Thursday May 13, 2010. You can preview the agenda here. Jimmie McCoy will discuss a subdivision ordinance amendment that would waive set back requirements. Ronnie Sharp will discuss 13-45 waiver for a mobile home park at 28864 George White Road. Jimmie McCoy will also recommend changing the name Marcy's Way to Oak Bluffs Drive. Remember this was a private development that had a road built in it with your road tax dollars in Mr. McCoy's district. he does not want you to find this road when election time comes around


Parish Council Schedules Three Committee For Next Week
(Published May 8, 2010)

The Parish Council has scheduled Code Review, Outlay and Finance committee meetings next week. The agendas have been posted on this site. The first meeting is the Code Review Committee on Tuesday May 11, 2010 at 5:00 pm. The main topics are mobile home and RV ordinances and parish ordinance restrictions.They have discussed relaxing the rules on trailer parks that would like to have RV parking. If you live in a rural area and you are worried about a RV park being built next to your home you may want to attend this meeting. if you think that the restrictions on the citizens of this parish are too strict or not strict enough you attend this meeting.

The next meeting is the Outlay Committee meeting Thursday May 13, 2010 at 4:00 pm. This meeting will address the DPW performing work inside municipalities. We can only assume that these councilmen are going to recommend introducing an ordinance that would prevent the Parish Department of Public Works from performing any work inside of Municipalities through out the parish. This is another example of the council trying to take of Administration. It has long been a problem that the council wants to direct DPW. Several months ago DPW workers were found excavating ditches on private property. View pictures here. The council needs to stop trying to gain control over DPW.

The third meeting is the Finance Committee meeting Thursday May 13, 2010 at 5:00 pm. They will be discussing old business, new business and other business. With Thomas Watson as chairman we are sure it will be a good meeting. The agenda doesn't give any indication of what will be discussed under the new business and other business items.



Louisiana Legislative Audit Report of Livingston Parish Debris Removal
(Published May 3, 2010)

The LA Legislative Auditor filed a report on Monday May 3, 2010 regarding debris cleanup in Livingston Parish after hurricane Gustav. The report was in regards to questions raised by the parish regarding costs and eligibility. PEC (Parish's Monitoring Firm), James Clark (Direct of LP Sewer District 1&2), IED (Debris removal Contractor), Jimmie McCoy (Parish Councilman) and Don Wheat (Parish Councilman) where named and addressed in the report.
Parish President Mike Grimmer issued a cease work order to IED after receiving an estimated bill of $58,689,141.00. At this point, according to the samples by FEMA, there are many charges to the parish that may not be eligible for reimbursement. PEC the parish's monitoring firm was to note eligible and ineligible debris as tickets were issued on each load at site.
On a sample selection of tickets by FEMA regarding "Leaner's and Hangers" FEMA determined only 16% or $543,320.00 was eligible of the $3,341,265.00 billed by PEC and IED. It is also stated that IED did not provide invoices to Livingston Parish in a timely bases so they could monitor costs and eligibility.
IED contracted with CC&C to assist in the initial debris cleanup after the storm. This is the clearing of roadways threats to safety and health debris. CC&C is owned and operated by Mr. James Clark (Sewer District 1&director) submitted daily worksheets for 5 days detailing hours worked and equipment used by him and all employees. Each day owner James Clark was listed as a foreman and truck operator for 10-12 hours per day. This totaled 58 hours. IED invoiced for this work and equipment use by Mr. Clark at a total of $5800.00. Also found is Mr. Clark reported working for the sewer district on 4 of the 5 days he reported working for CC&C for 63 hours. Mr. Clark states he was never present for CC&C but had contact with crews through cellular phone and worked the entire time for the sewer district. He also feels as owner of CC&C he is entitled to the pay he received through CC&C.
It is also found that 3 subcontractors of IED employed or contracted with immediate family members of 2 Livingston Parish Councilmen. Mr. Jimmie McCoy and Mr. Don Wheat. This matter has been turned over to the Louisiana Ethics Board for further investigation.
This report was delivered to the Livingston Parish District Attorney as well.

Click here to review full report.



IED Bills The Parish $8,500.00 to Trim One Tree
(Published April 26,2010)

If you need proof that IED was taken advantage of Livingston Parish and Fema you need to read this. There was a tree at North Park that had the top rip out during the storm. This tree is a water oak about 40 years old. In the next few pictures you will see that the before and after pictures. The contractor cut 40 plus limbs and invoiced the parish $8,415.

Click Here To See Pictures



Bid Committee today at 5:00 pm (Agenda)
(Published April 22, 2010)

Council Meeting Agenda has been posted
(Published April 18,, 2010)

McCoy Upset Over Contractor Selection for Burn Site Cleanup
(Published April 8, 2010)

Tonight councilman Jimmie McCoy voiced his frustration with Administrations over the contractor recommendation for burn site clean up. Mr. McCoy stated that the bid advertisement stated that a non collusion affidavit must be submitted with bids or the bid would be considered non responsive. The bid package was passed to the parish attorney Blaine Honeycutt and he briefly reviewed it and stated that it appeared that the bids should be non responsive. Then the council voted to defer the acceptance of the bids so they could consult with the attorney before rejecting bids. It was apparent that Mr. McCoy favored a contractor that wasn't being recommended by administration.

This reminded me of similar instance last year in Watson. The Live Oak Ball Park advertised for bids for a 2 million dollar ball park expansion. In the Instructions to Bidder (ITB) it stated that the contractor would have to have previous experience with projects similar in scope. The ITB stated that this previous experience qualification form must be submitted with the bid. The ITB also stated that the bidder must submit a Noncollusion Statement with their bid.The low bidder failed to submit the Noncollusion Statement with their bid also. The same company also failed to have their bid bond sealed. Richard Price Contracting a local contractor who has completed many project such as this one was the next lowest bidder and they did submit all required documentation with their bid. Richard Price Contracting had their lawyer challenge the bid on the grounds that the low bidder did not submit the required documentation. The attorney representing the board was Mr. Blaine Honeycutt and when the attorney for Richard Price Contracting contacted him he referenced the recent changes in Louisiana Public Law. Changes made to the bid law in October of 2008 state that Bid Security or Bid Bond, Acknowledgment of Addenda, Base Bid, Bid Total, Signature of Bidder, Name, Title and Address of Bidder, Name of Firm or Joint Venture, Corporate Resolution and Louisiana Contractors License Number are all that needs to be submitted. The low bidder shall furnish other documentation required at a later date, in accordance with the Bidding Documents.(typically 14 days) Richard Price Contracting had their attorney send a letter to Mr. Blaine Honeycutt stating that they would pursue legal action if the other contractors bid was not found non responsive. The next evening the board convened and under the advisement of Mr. Honeycutt they accepted the low bid and awarded the contract to the non responsive bidder. Later on RPC was told that one of the board members was actually an employee of the contractor that was awarded the contract. Richard Price Contracting decided not to pursue further legal action. A lawsuit would have only delayed the construction of the project and placed a financial burden on the Recreation Board.

Why didn't Mr Honeycutt mentioned the recent changes in the bid law tonight? To me it seems he goes with the majority of the board every time.

Council Will Discuss Paying IED At Tonight,s Finance Meeting
(Published April 8, 2010)

Tonight the council is going to discuss paying IED before FEMA approves the debris clean up work. Most of us have read about and probably seen pictures of the ditches and canals that were cleaned in the parish after hurricane Gustav. Local newspapers and TV stations have a reported on this issue many times. Fema has rejected payments for most of the work that the parish requested payment for. Fema has requested more documentation to show that work performed met the requirements for reimbursement. If we pay IED now we may not be reimbursed by FEMA. The parish hired IED at a higher price because IED claimed that they could pay the subcontractors while they waited on their money. IED needs to pay their subs while they wait. Recently Mississippi was notified that they will have to pay back 18 million dollars years after the work was completed because of fraud according to MEMA. Read the article and remember that if Mike Grimmer had not stopped the work Livingston Parish may have received the same notice two years from now. Click here to read article


Parish Council Finance Meeting Thursday Night April 8, 2010
(Published April 5, 2010)

The financed has scheduled a finance meeting for tomorrow evening. If there is anyway you can make this meeting it will be interesting. Items to be discussed are

A. Old Business
1. Declaration of surplus
2. Sample budget amendment
3. Indexing System
4. Website designer
5. Discussion of Baton Rouge MPO consultant fee
6. Recommendation to authorize payment for Juban North engineering services invoice.
7. Recommendations to authorize courthouse heating expenditure.
8. Discussion of IED request for payment.
9. Reduction of out of parish prisoners.
B. New Business
1.?????
C.Other Business
1. ?????

The Council Doesn't Get It
(Published April 3, 2010)
(Some of this article was taken from a forum page on the livingstonparishla.gov written by LQNoone}

Our Parish Council is the legislative branch of government just like Congress is the legislative branch of the federal government. Likewise the Parish President is the Executive Officer just as our President of the United States is the Executive Officer. The difference is the Parish Council and the Parish President only governs over Livingston Parish not the State or the United States. Now moving on, I am appalled that the Council voted to over ride the president's veto regarding the expansion of authority over RPF contracts released by the Parish. I believe President Grimmer is correct is when he vetoed the ordinance. Which brings me to the Council Attorney, what in the world were you thinking? You stated that President Grimmer's job is to make sure that contractors do their job not choose them. Since when does Congress or the State Legislature choose contractors? The only thing that the legislative branch of any government should be doing is appropriating funds and providing the rules that the residents and businesses should live by. Does the Governor of Louisiana or the State Legislature choose which construction firm builds a road? Let me explain it to you. A selection committee and the Secretary of LDOTD choose the firm. Now they may make the wrong decision, which the governor and the legislature have every right to investigate, by they don't get to choose. I surmise that the Council wants to hire contractors at their own pleasure so that the firms who provided support to those representatives get unwarranted contracts from the Parish without a proper selection process. If you want to select contractors to provide services using public dollars, then you should work for those departments that have public dollars to spend, i.e. DPW, Sheriff's Office, and School System. You have your own budget as a council, spend it as you wish, and stay out of other departments budgets. The council should stick to what you were elected for, approve/deny ordinances, budgets, salaries...etc. and then the rest of the Parish government can do what it was elected or hired to do, provide services!!!

We have received several comments that councilmen will not return phone calls to citizens in their district. We will update the contact information to include their home address. If they don't call you back go see them at home or the council meetings.
(Published April 1, 20010)


Parish Council Members Owe It to Their constituents to Provide Community Sewer
( Published April 1, 2010)
(Some of this article was taken from a forum page on the livingstonparishla.gov written by LQNoone}


This Parish is headed for disaster if we continue to approve subdivision developments without regard for the impacts these subdivisions have on our natural resources. Do you realize that most of the Parish dumps its sewage runoff into our streams from broken or insufficient treatment facilities? Many of our streams are impaired and we are about to be handcuffed by the Department of Environmental Quality. If that happens the Parish faces huge fines and penalties. I have been watching the Parish Council meetings and the Parish President continues to tell the council that we are on the verge of LDEQ coming down on us very hard. There are several members of the council that just don't seem to care; they just try to find loopholes to allow more development. The latest was very ingenious, they voted 5-3 to allow developers to just dump sewage runoff into the backyards of new construction instead of tying them into a central sewage system or into a package plant which would treat and then discharge. Granted if you put in septic systems, the sewage is supposed to be treated, however this is the problem. The package plants that most neighborhoods have are not working as they should. This is why we have impaired streams. Thank God that President Grimmer is concerned about our Parish and vetoed the ordinance. I hope everyone else in this Parish realizes that President Grimmer is a true leader and that the council is only what's good for them and their friends, the "developers". What will it take to convince these councilmen that we need parish wide sewer and water? Mr. Don Wheat said that investing more money in parish utilities was like putting money "into a sinking boat." (Click here to read newspaper article) If the existing parish utilities are not making a profit it is because the councilmen do not want to charge rates that cover operating cost. The Finance Committee challenged Parish President Mike Grimmer on April 23, 2009, to make the parish's utility systems more profitable, and then drastically lowered utility rates in August. (Click here to read newspaper article) The new rates insure that the utility department will operate at a loss. Even if the utility department only breaks even we owe it to the citizens of this parish to provide sewer service.

The Council Voting Records for Each Councilman Will Soon Be posted On This Site
( Published March 31, 2010)

Soon We will Have posted on this site how each councilman voted at the council meetings for each item voted on since January 2008 when their present term began. We will give a detailed breakdown of what was voted on, who introduced the item, who seconded it and how each one voted. We feel that this will be a important tool for the citizens of Livingston Parish when election times is near and your councilman is asking for your vote. This information will be posted on their individual campaign promises page.Information

Web Site has Surpassed Our Expectations.
( Published March 31, 2010)

Only Two weeks old and over 500 visitors, 3000 pages viewed with an average visit time of 8 minutes. We have viewers from all over the nation. We never thought that it would take off this fast. Please pass this web address to anyone that you think might be interested in getting the facts about our Parish Councilmen. If you have anything that you would like to add to this site please email editor@livingstonparishcouncil.info.

Council Office Request Opinion Concerning Whether Members of the Livingston Parish Council May Participate in the Road Initiative Petition
(Published March 29, 2010)

The Parish Council office tried their best to kill the Road Petition. The Parish Council did not want to give in to the road reform demanded by thousands of citizens from all areas of the parish. The council probably did not want everyone to know about this request. It appears that they were hoping to block the petition by using the fact that members of the council participated by signing and collecting signatures. Cindy Wale. Marshall Harris, Buddy Mincey and Thomas Watson all signed the petition but Thomas Watson did not help collect signatures. For Sixty days Cindy Wale, Marshall Harris and Buddy Mincey worked relentless with other volunteers across the parish to collect signatures. Why did the council want to kill the petition days before it became law? Click here to read the request for opinion

Council Approves Funding For Eden Church Road!! Thank You Cindy Wale!! Historical Council Meeting Was Held Tonight
(Published March 25, 2010)

At tonight's Parish Council meeting Cindy Wale convinced enough councilmen to vote yes for the reconstruction of Eden Church Road. Top LADOTD officials and a Louisiana State Senator informed the council that it would be almost impossible to move the monies set dedicated for Eden Church Road to any other project. Faced with the reality of losing such a large sum of money the vote was called and the winning result was welcomed by the crowd as most everyone in the room stood to applause. Councilwoman Cindy Wale should be proud for this accomplishment. Most people don't realize that in the last parish road overlay contract she did not have any roads in her district paved. She asked to have Eden Church Road placed on the list and the majority voted against it. (View the list of roads paved by each councilman HERE.) She did not give up she went out and secured more state money and the council majority still try to fight her on Eden Church Road. Tonight that all changed Eden Church Road will be paved

The meeting did have a down side tonight. The council voted to override the Parish President's Veto of Ordinance 10-02. Mr. Buddy Mincey sided with the majority to override the veto. We believe that Mr. Mincey was lobbied before the meeting and most likely received inaccurate information that led to his decision.

The request for proposal for a Multi-Disciplined Professional Services Company was skipped over and no discussion was offered. The council had only received one proposal from a company that doesn't appear to exist. The proposal had a false address, no office phone number and information at the Secretary of States office that showed that the company had just been formed March 11, 2010. The proposal spoke of a parent company who we are trying to find more information about. The proposal was poorly written and would have never even been considered by any other body of government. This should have never been placed on the agenda tonight. It was received on March 15, last week and the deadline for adding or removing items on the agenda was March 17. We would like to know who delivered it to the council. Considering that it was written on the same day as the deadline shown in the advertisement it must have been hand delivered and I would assume that they were given a receipt.

The meeting tonight was the most positive meeting that we have attended in the last couple of years. But the meeting could have done without Don Wheat's false accusation that Councilwoman Cindy Wale has never supported anything that the majority has sponsored. I guess he was referring to "Fire the Auditor", "Accepting Driveways Into the Parish Maintenance System," "Allowing 100 Lot Developments to Not Have Treatment Plants," "Allow Jimmie McCoy to Sign Contracts," This list could go on and on and will continue to get longer as long as Mr. Wheat continues to introduce and support bad Ordinance's. We hope that the council will move forward and work together for the good of the people.

Finance Committee Meeting to Discuss Eden Church Road Thursday 3:30 pm
(Published March 22, 2010)

Finance Committee Chairman Thomas Watson has scheduled a committee meeting for Thursday March 25, 2010 to discuss Eden Church Road. We have recently heard that Mr Watson has said that he supports Eden Church Road but there is one more vote needed to make it happen. With the help of four other councilmen he can say that he supports the project but make sure that it doesn't happen. If he truly supports the project he can persuade the other councilmen to help him get it passed. It's time for Mr Watson to get off the fence and take a stand.

Three important items on the agenda for next Thursday Night's Council Meeting
(Published March 20. 2010)

1. Possible override of the Parish Presidents veto of ordinance 10-02 is on the agenda. The council majority is trying to force ordinance e 10-02 on the books that will in our opinion take away powers from the Parish President and violate our Home Rule Charter. It is our opinion that the council wants to be in charge of deciding who gets contracts in this parish. If you attended the last council meeting March 11, 2010 you would understand why this would be bad for the parish. The parish advertised for bids to supply medicine for the prisoners at the parish jail. The company that submitted the lowest bid was not from this parish. Several councilmen asked if they could award it to the higher bid since the company with the highest bid was from Livingston Parish. Their attorney advised them that if they did they would violate Louisiana Public Bid Law. Even with that advise Mr. Randy Rushing voted against awarding the contract to the low bidder. Maybe it would be better to award it to someone who votes in this parish.

2. Eden Church Road is on the agenda to be voted up or down. We all know how hard Councilwoman Cindy Wale has worked to secure state funding for this project. Never before in history of this parish has someone fought so hard to secure every penny possible to fulfill a promise that they made to her constituents. For almost two years the majority of the council has fought to prevent her from reconstructing Eden Church road. It all began May 23,2008 when the councilmen were notified that they had received a $500,000.00 safety grant to improve Eden Church Road. Many of the councilmen immediately begin complaining insisting that it was unfair to award such a large sum of money to one project. It was obvious then that the majority of the councilmen was willing to lose the money rather than see it spent on Eden Church Road. The majority of the councilmen begin to get upset even more every time Councilwoman Cindy Wale questioned the legality of the parish paving parking lots and so called driveways. This coming Thursday night we will see if the good ole boys are willing to come to the table and agree to move forward with this project and work to bring our parish back together. We will most on this site immediately the result and how each one voted.

3. Councilman Thomas Watson has put on the agenda his Request for Proposal (RFP) for a company to take over most of all the councils duties and the Parish Presidents also. We assume that the job is too much for Councilman Thomas Watson and his fellow councilmen to handle. If this council moves forward and hires such a company to perform the task mentioned in the request we will have the potential to see corruption like we have never seen before. When you give this sort of power to one company you open the door for corruption. Companies that go after contracts like this one may be tempted to offer hunting trips or some other sort of bribes to keep such a contract each year. I would hope that our councilmen would never accept anything from a company that contracts with the parish but lets not tempt them. Read the RFP and see for yourself that it states that the Louisiana Public Law will not apply to bids receive for this RFP. This RFP doesn't even state the qualifications for companies submitting proposals.This RFP is a poorly written request that mainly tries to justify the reasons the council needing such a company. If the council accepts bids from a company Thursday night we will post on this web site the companies who submitted bids and their cost and who the council selects. We will also find out the companies qualifications, references, list of other clients that they previously represents, how long the company has been is business. We will visit the Secretary of State website and obtain all information possible so we can inform you of exactly who the company is.

Where Will The Parish President Be Seated At The Next Council Meeting?
(Published March 19, 2010)

In The Livingston Parish News Paper it was mentioned that the Parish President will not be allowed to sit with the council. Instead he will have to sit next to the podium where everyone speaks in a small chair in front of a small desk. If this is true the council should be ashamed of themselves. The Parish President has always sat next to the chairman and the co-chairman sat elsewhere.. The seating was designed to have the President next to the chairman and we now have an extra seat that doesn't get used. Maybe the person who will be sitting in what should be the presidents seat couldn't wait to try and win the seat in the next election. I wonder why? It'll be interesting to see if it remains this way next week.

Council Is Seeking A Consulting Firm To Handle Most Of Their Duties,
(Published March 15, 2010)

The council Is seeking an outside firm to manage all business for the council. Before they can do this they have to take duties that are specifically written in the Home Rule Charter for the Parish President and give them to themselves. This action shows that the council is out of control. Read the Request for Proposal and I believe that you will agree. They clearly state in their request that state bid laws will not apply to this request for proposal. The council has formed a committee that will review the proposals and then decide whom they want to award the contract to. This means that price is not an issue. The advertisement states that the cost is negotiable. They could award it to a company with a low bid that has never had any dealings with the parish. They could also award the contract to a company that has the highest price and has possibly contributed heavy to their campaigns. Either way the council feels that this is their option. Keep in mind that the duties that they want to hire a company to perform have been performed by the Parish President and the Council ever since we went to the Home Rule Charter system of government. This contract will cost anywhere from hundreds of thousands of dollars to possibly millions of dollars. Now that the council has moved into their big new government building they want to run the office like big government business.

Mr. Thomas Watson has admitted to being the author of this request for proposal. We have asked Mr. Thomas Watson if any other parishes use such a service. We have asked him what qualifications are required for a company who will perform this service to the council. We have asked him for the names of any companies that have shown interest in this RFP. He has said that he will answer our questions but we are still waiting.

Also keep in mind that the council wants this company to help draw up the new boundaries for each district after the new census data is collected. We need to pay attention to how future district lines are drawn. Marshall Harris, Cindy Wale and Buddy Mincey do not support this RFP. They know that this RFP would be bad for the parish.